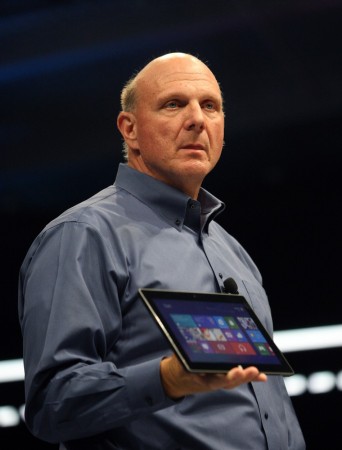 After weeks of speculations on the early debut of Surface Pro, American software maker Microsoft has confirmed that it will launch the much-awaited tablet on Feb 9.
General manager of the Microsoft Surface team, Panos Panay, confirmed that the company's newest model, 'Surface Windows 8 Pro', will be available in 64GB and 128GB models at $899 onwards.
Surface Pro tablet is an upgraded version of the Windows RT-based Surface device. The new device is said to sport a third-generation Intel core i5 processor and bigger internal memory with 4GB RAM.
Key Comparisons Between Specifications of Windows RT and Windows 8 Pro Surface Tablet :
Model

Windows RT based

Surface tablet PC

Windows 8 Pro based

Surface tablet PC

Display

10.6-inch ClearType HD Display

With 1366x768p resolutions

10.6-inch ClearType Full HD

Display with 1920x1080p

resolutions

OS

Windows RT

Windows 8 Pro

Processor

Quad-core NVIDIA Tegra 3

Processor

3rd Gen Intel Core i5 processor

With Intel HD Graphics 4000

Internal memory

2GB RAM

4GB RAM-dual channel memory

Storage capacity

32GB & 64GB variants

64GB & 128GB variants

Camera

Both front and rear side camera

Will have 720p HD LifeCams

Both front and rear side camera

Will have 720p HD LifeCams

Battery

31.5 W-h

42 W-h

Additional spec

USB v2.0,Bluetooth v4.0,microSDXC

Car slot, Wi-Fi(802.11a/b/g/n)

Bluetooth v4.0,USB v3.0,microSDXC

card slot, Wi-Fi(802.11a/b/g/n), Surface Pen

Dimension

271.57x171.95x9.39 mm

271.57x172.97x13.462 mm

Weight

680 g

907 g

Price

Starts from $499 to $699

starts from $899
The new Windows 8 Pro tablet ships with an exclusive Surface Pen to assist writing on the screen. With the tablet's Palm Block technology, writers and graphic designers can easily use Surface Pen to scribble notes and draw pictures on the screen with less trouble.
Microsoft has confirmed that the new Surface tablet will hit retail stores initially across US and Canada on Feb 9 and later in other international markets.
Microsoft's previous tablet Windows RT Surface was launched in October last year, but it received mixed reactions from both critics and consumers. The Redmond-based company is now hoping that the Surface Pro tablet would help revive its weak tablet sales.