Microsoft's advanced photo imaging technology- Photosynth app- is available now on Windows Phone that offers 360 degree panoramic photos of your surroundings.
This unique photo app enables user interface - users can click and drag, and also zoom in to see the details of the pictures.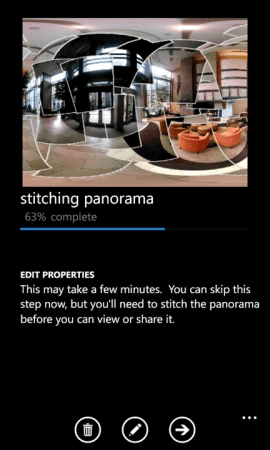 A user of Nokia Lumia 900 who has installed PhotoSynth on his mobile has posted a video on YouTube, demonstrating the performance of the Photosynth app on how the app automatically captures the surrounding images when the user slowly pans around and stitches together all the corners of the image in 360 degree, horizontally and vertically, to deliver a global look of the user's environment.
According to Microsoft, "It is the only app available on any mobile platform that allows you to capture 360 degrees horizontally and vertically, making a perfect 'sphere'."
Once you are done with panoramic photos, you can instantly share it on popular social sites like Facebook and Twitter right from the app itself, through Photosynth.net service. You can also publish your panoramas to Bing.
And the best panoramic shots of the users will be showcased in featured list and will also appear on Bing Maps and in Bing search results of the places you've captured.
And guess what, Photsynth is a free offering from Microsoft. [Download app]
However, right now there are no reports of Android coming out with Photosynth for their users.
Photosynth is an image capturing technology used by NASA to construct a 3-D view using photographs from standard digital cameras that can be navigated and explored online. This app was jointly developed by the University of Washington and Microsoft's Live Labs.