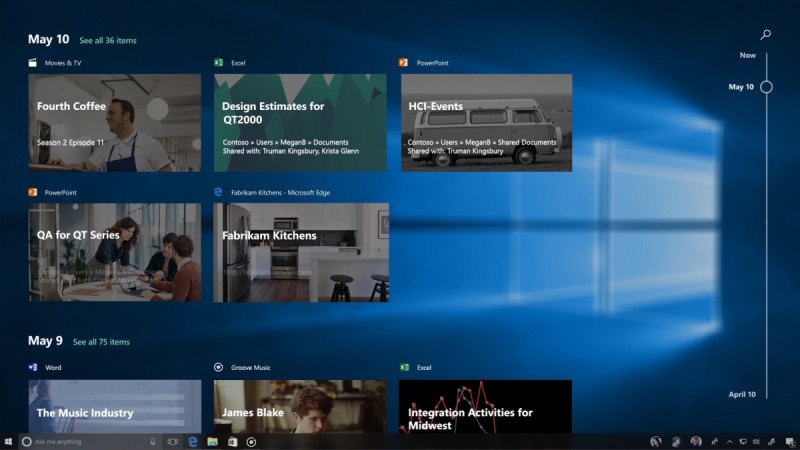 At the Build 2017 developer conference in Seattle on Thursday, Microsoft was talking about empowering users' creativity. In fact, the company was presenting it as the foremost selling point for the next major update to the Windows operating system -- the Windows 10 Fall Creators Update.
While unveiling the upcoming Windows update, Microsoft clearly indicated that it wanted its widely used OS to provide a harmonious working environment across Windows, iOS and Android. It was an attempt to make the Windows platform stay relevant in a world, which is increasingly dominated by internet-linked devices.
Windows 10 Creators Update now powers over 500 million Windows 10 devices around the world. Microsoft also claimed that over 300 million people currently use Windows 10 every day for more than 3.5 hours a day on average. The company believes that the new Windows 10 Fall Creators Update will help rewrite "the future of computing" with key enhancements like a "unified design for cross-device experiences" and by allowing developers to experience their personal creativity in software development.
Here're five innovative features of the Windows 10 Fall Creators Update that were in the focus during Thursday's unveiling:
Timeline
The Fall Creators Update will bring a new feature called Timeline to Windows 10, allowing users to travel back in time to find what they were working on, whether it was 2 hours or 2 months ago. As name suggests, it provides a timeline of tasks that a user was doing previously. The feature allows users to easily get into files, apps and websites as if they never left.
Pick Up Where You Left Off
This feature brings Cortana to the scene. After you log out of one device, Cortana asks if you want to continue working in your app, doc or website on your next device. So, don't be surprised if the doc you were editing on your PC before logging off pops up on your phone; the Windows 10 Fall Creators Update is smart enough to do that for you.
Clipboard
Clipboard will provide you a faster and easier way to copy and paste anything between connected devices. Be it a photo, map link, paragraph, or even an animated gif, you can copy all these from the desktop and paste on a phone, as the familiar Clipboard is now cloud-powered.
OneDrive Files on Demand
Users will now be able to access files in the cloud without downloading them and using storage space on a specific device. All the files, including online files, can be seen in File Explorer and accessed on-demand whenever users need them.
Story Remix
With .NET-based Story Remix, users can easily bring their photos and videos together to create stories with a soundtrack, theme, 3D objects and cinematic transitions. Distributed through the Windows Store as a Universal Windows Application, Story Remix uses Artificial Intelligence and deep learning to organise and transform photos and videos into stories.
In addition, Microsoft is also bringing a new Fluent Design to the Windows 10 Fall Creators Update, which is expected to be released in September. The company has already started converting some of its apps to this new design, in an attempt to shift from its previous Metro user interface.