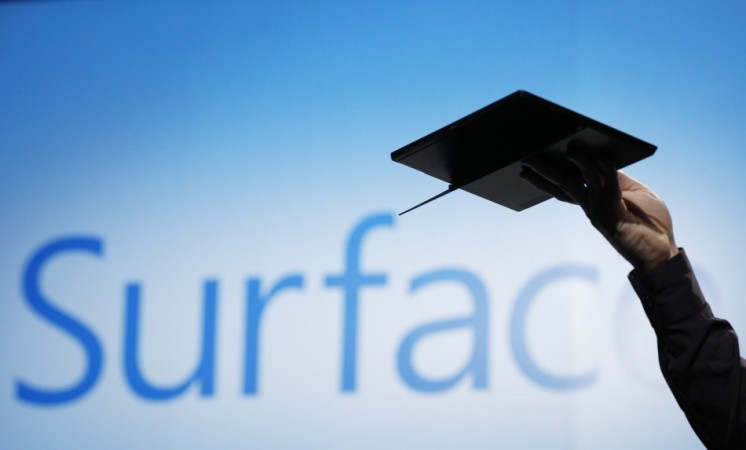 Microsoft is expected to release the smaller and less expensive version of its Surface tablet in the fourth quarter of this year, according to an analyst at Topology Research Institute.
The smaller tablet version, supposedly called Surface Mini, is expected to sport a display size between 7.5-inch and 8-inch and pack a low-power Intel Atom processor, Topology Research analyst, Maxwell Chang told CNA during a briefing on consumer electronics trends.
The tech giant has been in talks with Taiwanese original design manufactures for producing the smaller version, said Chang citing supply chain sources.
"Microsoft is likely to aim at taking on the iPad mini because it knows it is hard to compete with Android tablets in terms of price," he added.
The analyst also predicts that Microsoft is planning to launch the next-generation Surface Pro tablet and is expected to use a more powerful Intel processor, possibly the Intel Haswell.
Topology Research estimates that the global tablet shipment will reach the total of 161 million units this year, up by 42 percent from 113 million units shipped in 2012. It also said that tablets in the 7-inch and 8-inch size range will make up for 54 percent of the total shipments in 2013, which is a huge increase from 32 percent last year.
A similar report by research firm Strategy Analytics also indicates that the Windows operating system has accounted for only 7.5 percent share in the global tablet market in the first quarter of this year.
Microsoft has confirmed the cheaper Windows 8 running tablet from its OEM partners, but did not specify whether it will be the rumored Surface Mini.
During its Q3 earning calls with analysts, Microsoft's chief financial officer Peter Klein said consumers would see more Windows 8 touch devices at more attractive prices.
"[W]e also are working closely with OEMs on a new suite of small touch devices powered by Windows. These devices will have competitive price points, partly enabled by our latest OEM offerings designed specifically for these smaller devices, and will be available in the coming months," ZDNet quoted Klein as saying.
The rumours of Microsoft's smaller version Surface tablet came after it announced changes to the Windows 8 certification guidelines for OMEs, which allowed devices manufactures to produce smaller screen tablets.