Microsoft Surface Book (1st Gen) came with a powerful Intel processor and several value-added features in 2016 and gave a stiff challenge to Apple MacBook series. Now, the newly launched successor aptly named Surface Book 2 has made its debut with a boatload of upgrades.
The new Microsoft Surface Book sports 13.5-inch PixelSense display similar to the 2016-series and also comes with bigger 15-inch size as well. As far as the exterior is concerned, it has a premium metallic shell and thermal settings of the device have been re-configured to dissipate heat more efficiently, particularly when the device is used during a graphics-intensive gaming session.
Its armadillo-inspired 'dynamic fulcrum hinge' and innovative 'muscle wire locks' have been improved for easy detachment of the display from the keyboard.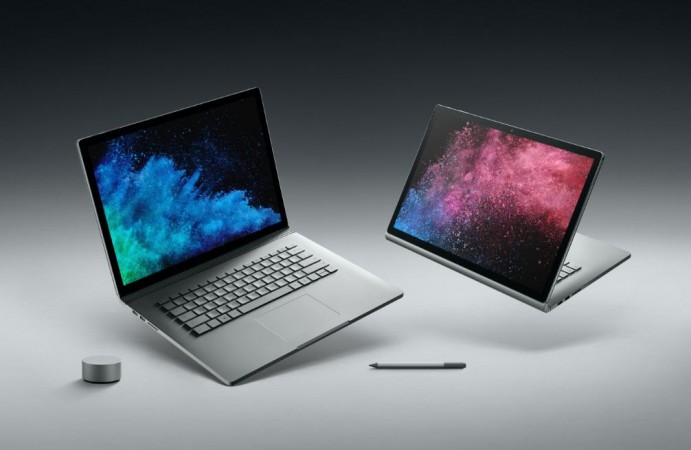 As far as the heart of the device -- the processor -- is concerned, Surface Book 2 houses a powerful, fast and efficient CPU than ever before. It comes with 7th Gen Intel Core i5/8th Gen Intel Core i7 processors and NVIDIA GeForce GTX 1050 and 1060 discrete graphics options. Surface Book 2 is said to be five times more powerful than the original and is twice as powerful as the latest MacBook Pro, Microsoft claims.
It is backed by 8GB/16RAM and with such top-notch configurations, Surface Book 2 is well equipped to support 3D gaming, mixed reality and capable of performing functions seamlessly in others forms of work.
Surface Book 2 will come with all-day battery life – up to 17 hours of video playback. That's 70 percent more than the latest MacBook Pro, the company noted.
Microsoft Surface Book 2 price and availability:
Both the 13.5-inch and 15-inch Surface Book 2 models will be made available in three configurations (check-below) with prices starting at $1,499 (approx. €1,270/Rs.97,557) and at $2,499 (€2,117/Rs 1,62,639), respectively. Model-specific price details are yet to be ascertained, but they will be available for pre-order from November 9 and delivery is slated to kick off on November 16. Interested people can check out Microsoft online store and authorised brick-and-mortar computers shops near your home.
Stay tuned. Follow us @IBTimesIN_Tech on Twitter for the latest news on Microsoft products.
Key specifications of Microsoft Surface Book 2 and new Surface Book (2016):
Models
Microsoft Surface Book 2 (2017) series
Microsoft Surface Book (2016)
Display
Model 1:

Screen: 13.5-inch PixelSense Display
Resolution: 3000 x 2000, (267 PPI)
Aspect ratio: 3:2
Contrast ratio: 1600:1

Touch: 10-point multi-touch G5

Model 2:

Screen: 15-inch PixelSense Display
Resolution: 3240 x 2160, (260 PPI)
Aspect ratio: 3:2
Contrast ratio: 1600:1
Touch: 10-point multi-touch G5

13.5-inch PixelSense display

Resolution: 3000 x 2000p
Pixel density: 267 ppi (pixels per inch)
Aspect ratio: 3:2
Touch: 10 point multi-touch

OS
Windows 10 Pro Creators Update 64-bit
Office 365 30-day trial
Windows 10 Pro with
Office 365 30-day trial
Processor
Model 1 and 2 come with two configurations:

8th Gen Intel Core i7-8650U (quad-core) with up to 4.20 GHz Max Turbo
7th Gen Intel Core i5-7300U with up to 3.50 GHz Max Turbo

6th Gen Intel Core i7
Graphics

Model 1 (13.5-inch): Intel HD Graphics 620 integrated GPU, Intel UHD Graphics 620 integrated GPU, or NVIDIA GeForce GTX 1050 discrete GPU w/2GB VRAM
Model 2 (15.0-inch): Intel UHD Graphics 620 integrated GPU or NVIDIA GeForce GTX 1060 discrete GPU w/6GB VRAM

NVIDIA GeForce GTX 965M 2GB GDDR5 memory
RAM
8GB or 16GB RAM 1866Mhz LPDDR3
8GB/16GB
Storage
Solid state drive (SSD) options - 256GB/512GB/1TB
Solid state drive (SSD) options - 256GB/512GB/1TB
Cameras, video and audio
Camera:

Windows Hello face authentication camera (front-facing)
5.0MP front-facing camera with 1080p HD video
8.0MP rear-facing autofocus camera with 1080p Full HD video

Audio:

Dual microphones
Front-facing stereo speakers with Dolby Audio Premium
3.5mm headset jack

Camera:

Windows Hello face sign-in camera (front-facing)
5.0MP front-facing camera with 1080p HD video
8.0MP rear-facing autofocus camera with 1080p HD video

Audio:

Stereo microphone
Stereo speakers with Dolby audio Audio Premium

Battery
Up to 17 hours of video playback
Up to 16 hours of video playback
Wireless connectivity
Wi-Fi: 802.11acBluetooth: BT4.1 LEXbox Wireless built-in (15.0-inch only)
802.11ac Wi-Fi wireless networking; IEEE
802.11a/b/g/n compatible
Bluetooth 4.0 wireless technology
Ports

2 USB 3.0 Type A
USB Type-C
UHS-II SDXC card reader
3.5mm headphone jack
2 Surface Connect
Surface Dial onscreen interaction

Surface Book

Two full-size USB 3.0
Full-size SD card reader
Surface Connect
Headset jack
Mini Displayport

Add-ons
Security:

HW TPM 2.0 chip for enterprise security
Enterprise-grade protection with Windows Hello face sign-in

Exterior:

Casing: Magnesium
Color: Silver
Physical buttons: Volume, Power

Security-

TPM chip for enterprise security

Exterior:

Casing- Magnesium;
Color- Silver;
Physical buttons- Volume, Power

Sensors

Ambient light sensor
Proximity sensor
Accelerometer
Gyroscope
Magnetometer

Ambient light sensor
Accelerometer
Gyroscope
Magnetometer

Dimensions
Model 1:

Model 1A: 13.5" (i5) 12.3 x 9.14 x 0.51–0.90 in. (312.00 x 232.00 x 13.00–23.00 mm)
Model 1A: 13.5" (i7) 12.3 x 9.14 x 0.59–0.90 in. (312.0 x 232.00 x 15.00–23.00 mm)

Model 2:

15" (i7) 13.50 x 9.87 x 0.59–0.90 in. (343.00 x 251.00 x 15.00–23.00 mm)

312.3 x 232.1 x 13.0 - 22.8 mm
Weight

Model 1: 13.5": Starting at 3.38 lbs (1,534 g) including keyboard
Model 2: 15": Starting at 4.2 lbs (1,905 g) including keyboard

1.65kg
Package contents

Surface Book 2
Power supply
Quick start guide
Safety and warranty documents

Surface Book

Surface Pen
Power Supply
Quick Start Guide
Safety and warranty documents (one year limited hardware warranty)

(Model specific price is yet to be ascertained) Configuration:
Model 1:

Model 1A: 256GB storage + 7th Gen Intel Core i5
Model 1B: 512GB storage + 8th Gen Intel Core i7
Model 1C: 1TB storage + 8th Gen Intel Core i7

Model 2:

Model 2A: 256 storage + 8th Gen Intel Core i7
Model 2B: 512GB storage + 8th Gen Intel Core i7-
Model 2C: 1TB+ 8th Gen Intel Core i7

Model 1: 256GB storage+ Intel Core i7+ 8GB RAM+ dGPU- $2,399 (€2,199/Rs. 1,60,528)Model 2: 512GB storage+ Intel Core i7+ 16GB RAM+dGPU-$2,799 (€2,566/Rs. 1,87,295)Model 3: 1TB+Intel Core i7+ 16GB+dGPU-$3,299 (€3,024/Rs. 2,20,752)