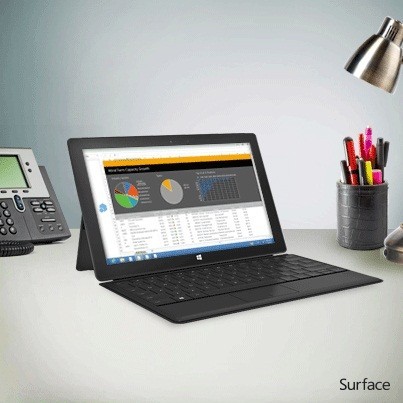 Microsoft Surface 2, unveiled recently in a Toronto-based event, is one of the latest competitive gadgets that reached the tablet market. Running on the latest Windows 8.1 OS, the next iteration of Surface RT tablet's key features and specifications have now been revealed.
Since the Surface 2 has been compared to a wide range of competitive tablets, coming from tech giants Apple and Samsung, one needs to analyse the specifications of the gadget and the upgrades it carry over its previous version.
Following are the differences and the similarities between Surface and Surface 2, according to The Unlockr:
Similarities
Minor dimension changes have been noticed in Surface (10.81 x 6.77 x 0.37in) and Surface 2 (10.81 x 6.79 x 0.35in) along with the later getting lighter by four grams, which is almost negligible. The screen size (10.6in) stays the same in both.
Both device's RAM (2GB) and storage capacity (32GB) are also the same.
Differences
While the screen size remains the same, the screen resolution and pixel density has been propelled from 1366x768 to 1920x1080 (full HD) and 148ppi to 208ppi respectively in Surface 2.
Both devices sport NVIDIA processors; however the Surface 2 features a 1.7GHz quad-core NVIDIA Tegra 4 processor, as compared to the previous iteation's 1.3GHz quad-core NVIDIA Tegra 3.
The camera section has been also revamped by Microsoft. While the Surface tablet flaunted a 1.2 megapixel rear and front camera, Surface 2 boasts a 5 megapixel rear and 3.5 megapixel front cameras.
The USB ports have also been upgraded from USB 2.0 to 3.0
One of the key upgrades includes the extra features in Surface 2 as compared to its previous version. The Surface tablet only came with Office RT software, however, Surface 2 comes with Office RT with Outlook, 200GB of SkyDrive cloud storage (free for two years), unlimited Skype calling (free for one year) and a kickstand with two angle settings.
The battery capacity has been increased from 8 hours to 10 hours
The number of specifications increased by Microsoft is big and cannot be ignored easily. One can view full HD videos and use USB 3.0 for faster data transfer, along with better camera only by putting an extra $100, as the starting price of Surface 2 is $449, compared to Surface's $349.