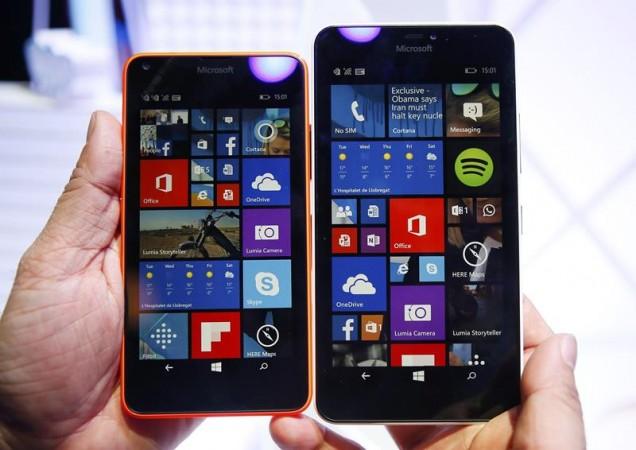 The much-awaited Microsoft Lumia 950 and its phablet sibling 950 XL are likely to be launched in a couple of month in the US.
Microsoft was previously rumoured to unveil Lumia 950 (aka Talkman) and Lumia 950 XL (aka Cityman) at IFA (Internationale Funkausstellung Berlin) 2015 (4-9 September), but it has now come to light that the American PC software giant might actually host its own separate launch event in New York City around late September or in October, reports Windows Central.
It has been learnt that Microsoft shelved plans to participate at the IFA event anticipating that its newly launched phones might get overshadowed, as the Berlin event is playing host to big rival smartphone makers.
Microsoft's 2015 flagship phones have lot at their stake, their success will decide the fate of the company's mobile division that was acquired from Nokia for a staggering $7.6 billion and recently, Microsoft had to let go close to 7,800 employees.
Even Samsung skipped the IFA 2015 to launch Galaxy Note 5 in NYC next month. The company, despite launching critically acclaimed Galaxy S6 series phones, could not arrest sliding profit margins.
Read-more: Samsung Galaxy Unpacked 2015 Event Set for 13 August; Galaxy Note 5 Release Imminent
Rumours are rife that Samsung has advanced the devices' launch date to August so that the Galaxy Note 5 and the S6 Edge Plus reach stores early and get a head-start over arch-rival Apple's 2015 iPhone editions, which are slated to be unveiled a month later.
Microsoft's Lumia 950 is said to boast advanced Iris-scanner based biometric technology for secured unlocking of the phone. It is also expected to feature 5.2-inch WQHD (2560x1440p) display and run on the Windows 10 OS backed by Snapdragon 808 Hexa-core SoC (System on Chip), 3GB RAM and a 3000 mAh battery.
On the other hand, Lumia 950 XL reportedly sports a bigger 5.7-inch WQHD screen and comes shipped with Snapdragon 810 Octa-core CPU, 3GB RAM and a 3300 mAh cell.
Like all previous high-end Lumia series phones, the new devices will boast of top-notch camera specifications. They are said to come equipped with 20mp PureView camera on the back and 5mp wide-angle snapper on the front.
Expected features of Microsoft Lumia 950 and Lumia 950 XL:
Models
Microsoft Lumia 950 (aka Talkman)
Microsoft Lumia 950 XL (aka Cityman)
Display
5.2-inch WQHD (2560x1440p) OLED screen
5.7-inch WQHD (2560x1440p) OLED screen
OS
Microsoft Windows 10
Microsoft Windows 10
Processor
64-bit class Qualcomm Snapdragon 808 Hexa-core CPU
64-bit class Qualcomm Snapdragon 810 Octa-core CPU
RAM
3 GB
3 GB
Storage capacity
32GB (expandable via microSD card)
32GB (expandable via microSD card)
Camera

Main: 20.0-megapixel PureView camera
Front: 5.0-megapixel wide-angle camera

Main: 20.0-megapixel PureView camera with triple LED flash, 1 mm silver ring inside the circumference of the black hued camera module
Front: 5.0-megapixel wide-angle camera

Battery
3000 mAh
3300 mAh
Add-ons
USB Type C port, Iris-Scanner (infrared) for Windows Hello, Qi wireless charging with flip cover, also said to come with polycarbonate body with matte finish (either in white or black colours)
Stylus (similar to S-Pen in Samsungs' Galaxy Note series), USB Type C port, Iris-Scanner (infrared) for Windows Hello, Qi wireless charging with flip cover, also said to come with polycarbonate body with matte finish (either in white or black colours), Aluminum side buttons