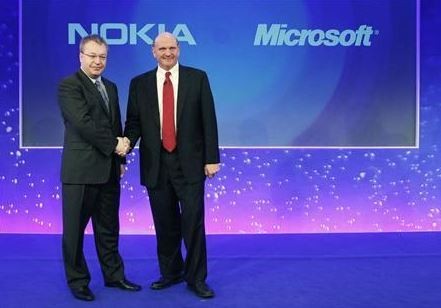 Software giant Microsoft on Monday announced that it would acquire Finnish handset maker Nokia in a multi-billion dollar deal, reminiscing the days of Google's high-profile acquisition of Motorola in 2012.
The buy-out includes Microsoft taking control over Nokia's phone devices and service business for close to $5 billion and for licensing of patents and Nokia's flagship mapping (HERE) services. The Redmond-based company would shell out another $2.17 billion, totaling close to $7.2 billion for the whole deal. The process is expected to be completed in the first quarter of 2014.
Microsoft CEO Steve Ballmer who is soon to retire said, "It's a bold step into the future - a win-win for employees, shareholders and consumers of both companies. Bringing these great teams together will accelerate Microsoft's share and profits in phones, and strengthen the overall opportunities for both Microsoft and our partners across our entire family of devices and services,"
"In addition to their innovation and strength in phones at all price points, Nokia brings proven capability and talent in critical areas such as hardware design and engineering, supply chain and manufacturing management, and hardware sales, marketing and distribution," he added.
Risto Siilasmaa, chairman of the Nokia Board of Directors and Nokia's new interim CEO said, "For Nokia, this is an important moment of reinvention and from a position of financial strength, we can build our next chapter."
With the announcement, CEO Steven Elop is said to step aside from his current position and is expected to join the Microsoft team with a new designation, probably get the Microsoft's top post, since Ballmer's tenure is due to end soon. Other top Nokia officials are also expected to join the software giant's board.
Currently, Nokia doesn't hold a spot in the top five smartphone vendors chart. Despite having a good run with consistent sales of Lumia phones in the last three quarters, Nokia still continues lose its international market share, going farther away from current market leaders Samsung and Apple. Also, the emergence of Chinese vendors - ZTE, Huawei and Lenovo, have further impeded the Finnish company's comeback.
However, Nokia does have a strong hold in developing countries like India, where its huge portfolio of Lumia smartphones are making considerably good business. With Nokia now under Microsoft, it can concentrate on strengthening its base in the sub-continent, African and Middle Eastern regions by offering more smartphones that meet all budget needs.
Just a year ago, search giant Google bought the Motorola's dying smartphone business for $12.5 billion in a bid to acquire its patents and start a full-fledged smart device business. Last month, Google-Motorola rolled out its first handset, a mid-range feature-rich Moto X, in the US.
When Moto X was launched, many wondered why Google would introduce a mid-range smartphone instead of a high-end device like rivals Apple and Samsung generally do. Despite that, Google still managed to gain popularity with its new cheeky smartphone. It received rave reviews from critics and fans alike for its innovative voice interface and custom configuration (back panels) features.
Google-Motorola is expected to release later in the year a few more Moto X series devices which are specific to market region and for much lesser prices.
Many Nokia fans would also hope that Microsoft will turn around the Finnish company's current predicament, just as Google did with Motorola. Both Google and Microsoft are expected to step-up their rivalry in the OS market share, Google's Andorid tops the chart with close to 80 percent share, whereas Microsoft's Window Phone OS is placed third with a meager 3.7 percent in Q2, 2013, With new devices in the pipeline, they are also expected to bring a new order in the smartphone business, taking on reigning leaders Samsung and Apple in the coming days.