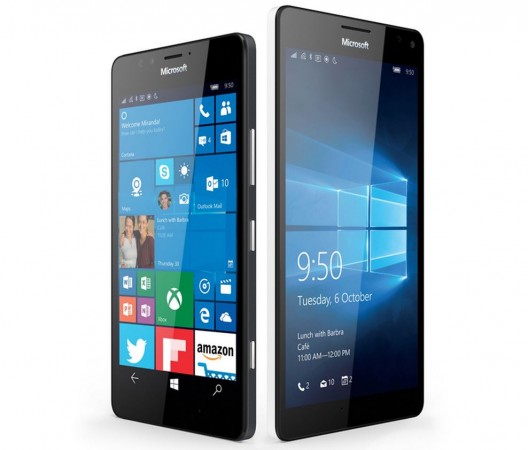 Microsoft is reportedly planning to release the new flagship smartphones Lumia 950 series in India later this month.
Technology blog Technology Personalized has claimed that the Redmond-based Microsoft will host the Lumia 950 series launch event in New Delhi on 30 November.
For the uninitiated, Microsoft Lumia 950 and its phablet variant Lumia 950 XL were originally unveiled in October in the US, now the device will soon hit stores in India.
Lumia 950 and Lumia 950 XL come with pretty much same hardware but differ in few features. The former sports a 5.2-inch WQHD (2560x1440p) screen and run on the Snapdragon 808 Hexa-core processor with 3000 mAh battery, whereas the latter boasts bigger 5.7-inch WQHD screen and houses Snapdragon 810 Octa-core CPU backed by 3340 mAh cell. The rest of the specifications of the devices remain same.
They both come packed with Windows 10 Mobile OS, 3GB RAM, 32GB inbuilt storage and wireless charging ability.
Like all previous flagship Lumia series, the new Microsoft devices boast top-notch camera hardware. Lumia 950 series come with incorporated state-of-art 20MP PureView camera with Carl Zeiss lens, 6-lens optics, 1/2.4-inch sensor, 26 mm camera focal length, f/1.9 aperture, natural flash, fifth gen OIS (Optical Image stabilization), autofocus (two-stage capture feature), 4K video recording.
And at the front, they come packed with 5MP wide-angle camera with f/2.4 aperture and full HD camera.
That's not all;l they also boast state-of-the-art technology dubbed as Windows Hello (Beta). It uses infra-red camera technology to automatically authenticate user to unlock the phone, thus providing an additional layer of security for the phone.
Other notable features of the new Lumia 950 series is the Continuum.
It works with the help of Microsoft's proprietary display dock accessory, Lumia 950 user can convert the phone in to a mini-computer via Continuum feature. It is a new, adaptive user experience offered in Windows 10 that optimises the look and behavior of apps and the Windows shell for the physical form factor and customer's usage preferences to provide PC like experience.
[source: Technology Personalized]
Key features of Microsoft Lumia 950 and Lumia 950 XL:
Models
Microsoft Lumia 950
Microsoft Lumia 950 XL
Display

5.2-inch WQHD (2560x1,440p) TrueColor AMOLED screen with ClearBlack technology and Corning Gorilla Glass 3 protection
Pixel density: 564 ppi (Pixels per inch)

5.7-inch WQHD (2560x1,440p) TrueColor AMOLED screen with ClearBlack technology and Corning Gorilla Glass 4 protection
Pixel density: 518 ppi (Pixels per inch)

OS
Windows Phone 10 Mobile
Windows Phone 10 Mobile
Processor
64-bit class based 1.8GHz Qualcomm Snapdragon 808 Hexa-core (ARM Cortex A57 dual-core +ARM Cortex A53 quad-core) CPU
64-bit class based 2.0GHz Qualcomm Snapdragon 810-core (ARM Cortex A57 quad-core +ARM Cortex A53 quad-core) CPU
GPU
Adreno 418
Adreno 430
RAM
3GB
3GB
Storage capacity
32GB, expandable up to 200GB
32GB, expandable up to 200GB
Camera

Main: 20.0-Megapixel PureView camera with Carl Zeiss lens, triple-LED flash, 6-lens optics, 1/2.4-inch sensor, 26 mm camera focal length, f/1.9 aperture, natural flash, fifth gen OIS (Optical Image stabilization), autofocus (two-stage capture feature), 4K video recording,
Front: 5.0-megapixel wide-angle camera with f/2.4 aperture, full HD camera

Main: 20.0-Megapixel PureView camera with Carl Zeiss lens, triple-LED flash, 6-lens optics, 1/2.4-inch sensor, 26 mm camera focal length, f/1.9 aperture, natural flash, fifth gen OIS (Optical Image stabilization), autofocus (two-stage capture feature), 4K video recording,
Front: 5.0-megapixel wide-angle camera with f/2.4 aperture, full HD camera

Battery
3000 mAh; (Qi wire-less charging standard and fast charging feature)

Maximum standby time with dual SIM: 12 days
Maximum talk time (2G): 23 h
Maximum talk time (3G): 18 h
Maximum music playback time: 67 h
Maximum Wi-Fi network browsing time: 9.5 h
Maximum video playback time: 10 h

3340 mAh; (Qi wire-less charging standard and fast charging feature)

Maximum standby time with dual SIM: 12 days
Maximum talk time (2G): 25 h
Maximum talk time (3G): 19 h
Maximum music playback time: 75 h
Maximum Wi-Fi network browsing time: 11 h
Maximum video playback time: 11 h

Network
3G & 4G-LTE (Cat. 4 with 150/50 mbps- download/upload speed)
3G & 4G-LTE (Cat. 4 with 150/50 mbps- download/upload speed)
Add-ons
Nano-SIM (Single/Dual-SIM slots depending on markets), Bluetooth v4.1, Wi-Fi (WLAN IEEE 802.11 a/b/g/n/ac; MIMO), NFC, FM radio, USB Type-C v3.1,Continuum, Windows Hello
Nano-SIM (Single/Dual-SIM slots depending on markets), Bluetooth v4.1, Wi-Fi (WLAN IEEE 802.11 a/b/g/n/ac; MIMO), NFC, FM radio, USB Type-C v3.1, Continuum, Windows Hello
Dimensions
145.0 x 73.2 x 8.2 mm
151.9 x 78.4 x 8.1 mm
Weight
150 g
165 g