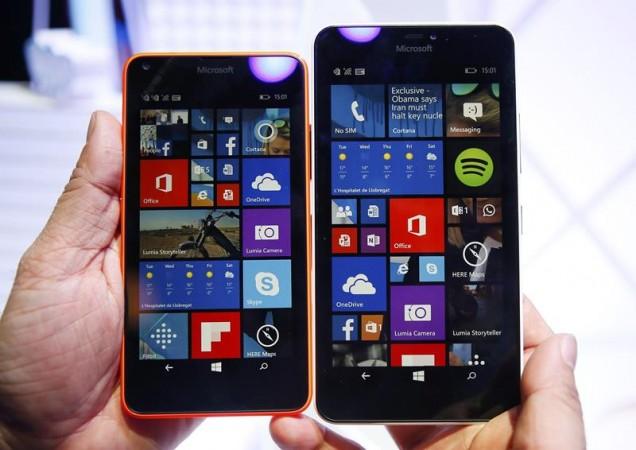 The long-rumoured Microsoft Lumia 940 series is all set to be unveiled in a couple of months, suggests a report.
Recent reports had indicated Microsoft may launch the Lumia 950 series later this year, but now technology blog NPU (Nokia Power User), citing sources has claimed that American technology has decided to stick with the Lumia 940 (& XL) moniker as the successor to the 2014 flagship Lumia 930 series and is prepping the stage to unveil them at New York City on 19 October.
The soon-to-be-released Lumia 940 is said to feature a 5.2-inch WQHD (2560x1440p) display and runs on the Windows 10 OS backed by Snapdragon 808 Hexa-core SoC (System on Chip), 3GB RAM and a 3000 mAh battery.
On the other hand, its phablet sibling, Lumia 940 XL is expected to flaunt a bigger, 5.7-inch WQHD display and will be powered by the Snapdragon 810 series Octa-core SoC (System on Chip), 3GB RAM, 32GB storage and a high capacity 3300 mAh battery.
Both the devices will boast of state-of-art camera features. Microsoft has reportedly incorporated 20mp PureView camera on the back and 5mp wide-angle snapper on the front.
Both the devices are also said to come equipped with more advanced Iris-scanner based bio-metric technology, which is said to be more superior to finger-print sensor.
Expected features of Microsoft Lumia 940 and Lumia 940 XL:
Models
Microsoft Lumia 940 (aka Talkman)
Microsoft Lumia 940 XL (aka Cityman)
Display
5.2-inch WQHD (2560x1440p) OLED screen
5.7-inch WQHD (2560x1440p) OLED screen
OS
Microsoft Windows 10
Microsoft Windows 10
Processor
64-bit class Qualcomm Snapdragon 808 Hexa-core CPU
64-bit class Qualcomm Snapdragon 810 Octa-core CPU
RAM
3 GB
3 GB
Storage capacity
32GB (expandable via microSD card)
32GB (expandable via microSD card)
Camera

Main: 20.0-megapixel PureView camera
Front: 5.0-megapixel wide-angle camera

Main: 20.0-megapixel PureView camera with triple LED flash, 1 mm silver ring inside the circumference of the black hued camera module
Front: 5.0-megapixel wide-angle camera

Battery
3000 mAh
3300 mAh
Add-ons
USB Type C port, Iris-Scanner (infrared) for Windows Hello, Qi wireless charging with flip cover, also said to come with polycarbonate body with matte finish (either in white or black colours)
USB Type C port, Iris-Scanner (infrared) for Windows Hello, Qi wireless charging with flip cover, also said to come with polycarbonate body with matte finish (either in white or black colours), Aluminum side buttons