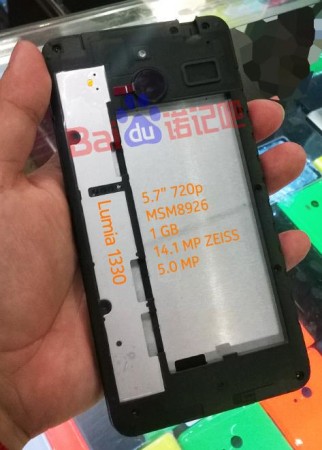 It seems that Microsoft is set to release the successor of their budget phablet Lumia 1320.
According to a photo uploaded on Twitter by @staguevue, the phone may pair up a 5.7-inch 720p (720x1280 pixels) display. The last edition, Lumia 1320, also paired a similar 720p screen, but it had a 0.3-inch bigger screen size than the upcoming one.
The leaked image further hints that the Lumia 1330 is about to feature MSM8926, Qualcomm Snapdragon 400 based Quad-Core SoC in comparison with 1320's Dual-Core SoC. The Lumia 1330 will also retain the same 1GB RAM. Though there is no mention of device storage on the leaked image, we believe the Lumia 1330 won't upgrade it for being in the budget phablets category.
Regarding the camera, the image indicates that the device could ship with a 14.1mp rear camera with Carl Zeiss optics and a 5mp front camera. The last edition featured a 5mp rear camera along with a 0.3mp front camera.
Though there is no official update from Microsoft on LUMIA 1330's release date or price, we believe the Windows maker will not be in a hurry to release it on the upcoming International CES 2015 and may wait till March 2015 when the gala mobile event MWC will be held in Barcelona.