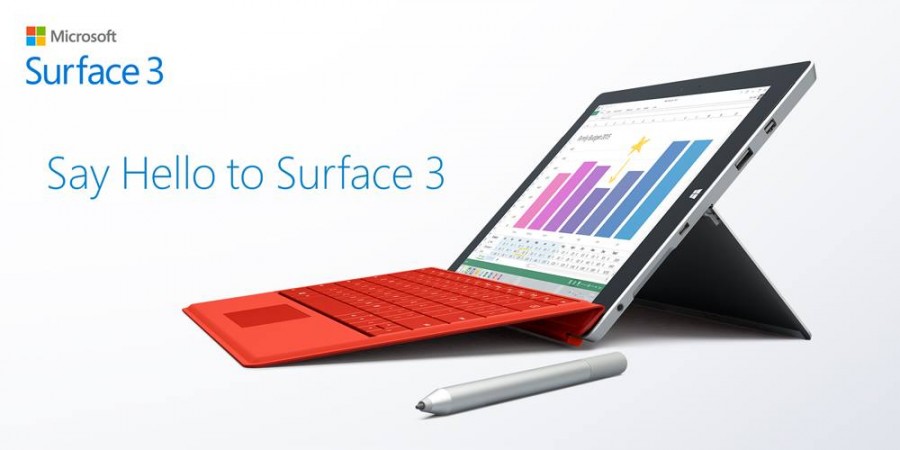 If the pricey Microsoft Surface tablets have forced you to go for Android or iOS based tablets, the all-new Surface 3 is your long-lost answer.
The third-gen Surface model is a massive development from the previous models, building on the strength of Surface Pro models and eliminating the flaws found in prior Surface variants. Microsoft has made major changes on the software front than on the looks of the new Surface 3 tablet.
Microsoft's latest Surface model is targeted towards the budget-conscious lot with downgraded specs. The screen size has been shrunk down to 10.8 inches and has slimmer and lighter build compared to other Surface tablets. The tablet also serves as a laptop, thanks to the Windows 8.1 OS and the three-stage kickstand with keyboard.
Sadly, the Surface 3 misses the adjustable kickstand as found in the bigger Surface Pro 3 model. The decision to ditch Windows RT enables users to run the entire suite of Windows apps used in desktops, The Verge reports. The tablet will be upgradeable to Windows 10, when the OS finally arrives later this year.
The Surface 3 comes in two variants, the 64GB storage and 2GB RAM, and 128GB storage and 4GB RAM. The tablet is powered by Intel's quad-core Atom x7 processor with dual cameras, full-size USB port, microSD card slot and a mini DisplayPort. Microsoft is taking the guarantee for 10-hours of video playback with its built-in battery.
Most notably, the Surface 3 borrows the stylus from Surface Pro line and comes in different colours to match the Type Covers in red, black, blue and silver. But the handy pen will not be included in the Surface 3 bundle as buyers must shell out additional $49.99. Similarly, the Type Cover will cost an additional $129.
The Surface 3 starts at $499 for the base variant with 2GB RAM while the higher-end model will cost $599. The global sales will commence on 5 May but you can pre-order the tablet starting tomorrow, 2 April.