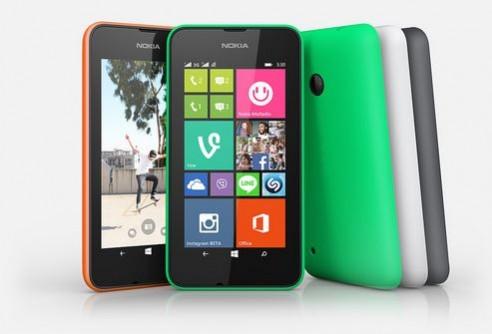 Microsoft has introduced two more affordable Lumia smartphones -- Lumia 435 and Lumia 532. According to Microsoft, both these are the most-affordable Lumia devices till date. Running on Windows Phone 8.1 operating system, both the devices offer Lumia Denim update along with all the necessary Lumia apps.
In a press release, Microsoft said that both the phones will provide a balance of features, power and Windows phone 8.1 experiences at the new price point. While Lumia 435 will be the first phone in Microsoft Lumia 400 series, Lumia 532 will be a successor of Lumia 530.
Microsoft hasn't spoken much about the hardware configuration of Lumia 435, but Lumia 532, they say will feature a premium layered design, glance screen, front-facing camera, Quad-Core processor with more on-board memory than Lumia 530.
Moreover, both the phones will be able to switch effortlessly between voice and video calls with built-in Skype and front camera, pre-installed Microsoft Office, 30GB OneDrive free Cloud storage, in-built Cortana assistance, Outlook support, seamless integration with camera through Lumia camera and Lumia Selfie app and more.
Speaking on the occasion, Jo Harlow, corporate vice-president for phones at Microsoft said, "When we launched the first Lumia devices over three years ago, we said we were committed to bringing devices to as many people and price points as possible."
"With the Lumia 435 and Lumia 532, we've realised our goal of creating the most-affordable Lumia devices till date, opening up the opportunity to reach those who are buying a smartphone for the very first time. Lumia 435 and Lumia 532 deliver competitive hardware alongside innovative software that will continue to receive latest updates and enhancements, keeping users up-to-date with the best new features," he added.
Lumia 435 and Lumia 532 will begin rolling out in key markets in Europe, APAC and IMEA in February. Both devices will be available in bright green, bright orange, white and black, and will be available in single- and dual-SIM variants. Pricing will vary by market and operator, but is estimated to be around INR 5,055/ 69 euros/ $81.31 before taxes and subsidies for Lumia 435 and around INR 5,789/ 79 euros/ $93.09 before taxes and subsidies for Lumia 532.