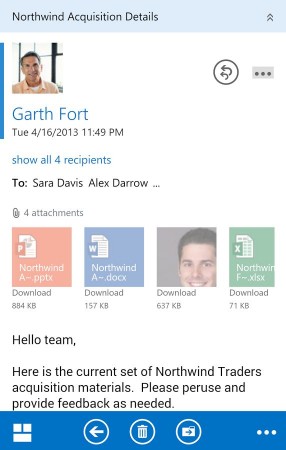 Microsoft on Thursday launched an Outlook app for the iOS and Android devices. The app is available for free on both the platforms and is compatible with all the Android smartphones, tablets, iPhone, iPad and iPod Touch devices.
After the launch, all the key application softwares of Microsoft Office are now available on both the popular OS platforms. Microsoft had released their Word, Excel, Powerpoint, Lync and OneNote earlier for the Android and iTunes store.
The Outlook app looks similar to the Accompli email client app which Microsoft acquired a few months ago. The latest Outlook app inherits all the key features of Accompli including integration with Google Drive and Dropbox.
The Outlook or OWA app lets you use your email, calendar, and contacts from virtually anywhere using your Android phone. You can triage email, manage your schedule, and sync contacts on the go, while protecting your business data.
With OWA, you can organise your emails quickly with conversation view, mark as junk, flag and categories, search or browse emails in all folders including Outlook Favourties and use online apps for shipment tracking, Bing maps for addresses and others.
The OWA app also retains the swiping feature for archiving or deleting emails. However, for accessing the app you need to have your email ID with the latest version of Office 365 for Business.