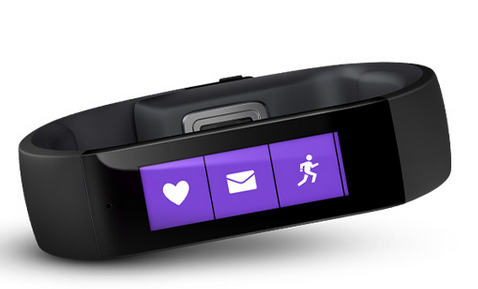 Following Lenovo and Fitbit, Windows operating system developer Microsoft has launched a new fitness tracker wearable device. Following the sudden release of Microsoft health app on Google Play Store and Apple App store, the American giant has announced the availability of 'Microsoft Band' few hours back.
There were already some rumours on the Internet over a couple of weeks that the software giant may release a smartwatch with cross-platform accessibility. And finally Microsoft officially launched it on their official blog. The new Microsoft Fitness band is available for $199 (₹12,250) and runs on the company's new fitness platform 'Microsoft health'.
"Designed to showcase the power of Microsoft Health, Microsoft Band tracks your heart rate, steps, calorie burn and sleep quality with advanced, highly innovative sensors. It also helps you be more productive with email previews and calendar alerts at a glance. Microsoft Band works across platform on your Windows Phone, Android, and iPhone," Microsoft mentioned in the official blog.
Apart from informing the user about their fitness updates, Microsoft Band will also provide data on calories burnt and current heart rate. It will also inform important notifications from the user's smartphone like emails and text messages and will also support cortana and productivity notifications.
The Microsoft Health platform archives, manages and learns from the fitness information to give specific prompts to improve workouts. It can also share the data for medical needs, if required. It also has an app, which is available for Windows phone, iOS and Android platform.
To make the platform more popular, Microsoft has established partnerships with popular concerns like Starbucks, Gold's Gym, Myfitnesspal, Runkeeper and Mapmyfirness.
Featuring built-in GPS, Microsoft Band is capable to record the distance one has travelled and can assist them with a map showcasing the user's total workout. It is also equipped with a UV monitor that gives the user real-time measurement of UX Index.