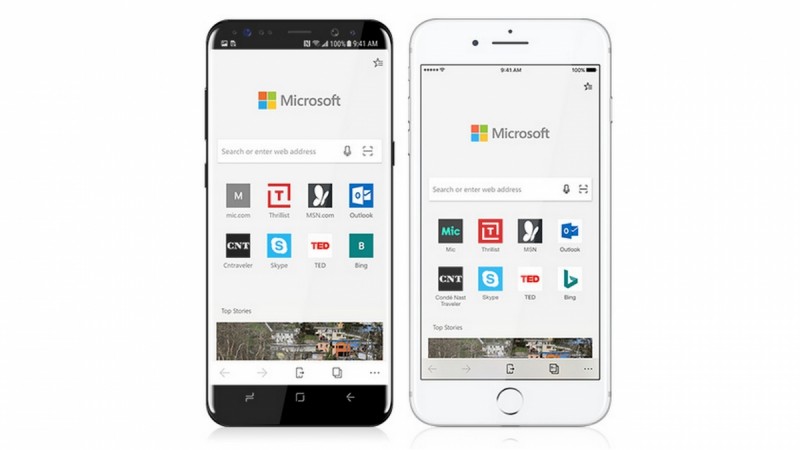 Microsoft had released a beta mobile version of its popular desktop browser, Microsoft Edge, for Android and iOS devices in October to know feedback from the Windows Insider Preview community. Now, the Redmond-giant has removed the app from beta and released the stable version of Edge browser for the public.
Microsoft announced the roll out on November 31 via a blog post saying: "We are pleased to announce that we're removing the "preview" label from our Android and iOS app."
The Microsoft Edge browser for Android and iOS, without its 'preview' tag is now available for download from Google Play and App Store.
Microsoft Edge creates a single continuous browsing experience for Windows 10 users across their devices (i.e., mobile and PC). The new Edge browser app for Android and iOS is aimed at providing a synchronised experience across PC and mobile, with synced Favourites, Reading List, New Tab Page, Reading View and Roaming Passwords available across the PC and phone.
The most interesting feature of the Edge browser app for iOS and Android has a "continue on PC" feature that lets users pick up their work from where they left off, no matter where they are or what they are doing. It allows users to seamlessly move content (web pages) between mobile and PC.
The "continue on PC" feature allows users to instantly open the page they have been viewing on the mobile app, on their PC.
"What makes Edge really stand out is the ability to continue on your PC, which enables you to immediately open the page you're looking at right on your PC-or save it to work on later," notes Microsoft in its blog post.
Apart from the "continue on PC" feature, Microsoft has also added two new features to Edge browser app that weren't there in the preview version. These include the aforementioned Roaming Passwords and a Dark theme. Microsoft has apparently added these two features after receiving feedback from users who have been testing the Edge browser in the preview version.
The new Roaming Passwords feature works somewhat like this – suppose you change the password of your Gmail account on your phone, with Roaming Passwords feature switched on, you won't have to re-enter the password when you access your Gmail account on your PC, as it gets updated on your PC as well.
"Save a new password on your phone, and it follows you to your PC," says Microsoft explaining the Roaming Passwords feature. The Dark theme, as the name suggests is just an additional theme that turns the default white theme into black.
The app also has a Data Sync feature that lets users sync their files across PC and mobile, while the Hub View feature lets you save all your files in one place.
Meanwhile, the Edge browser for iOS is currently available in the United States, China, France and the UK.
While Edge browser for Android devices is available in the United States, Australia, Canada, China, France, UK and in India. Microsoft is also planning to bring the MS Edge for iOS and Android to additional markets in the coming days.