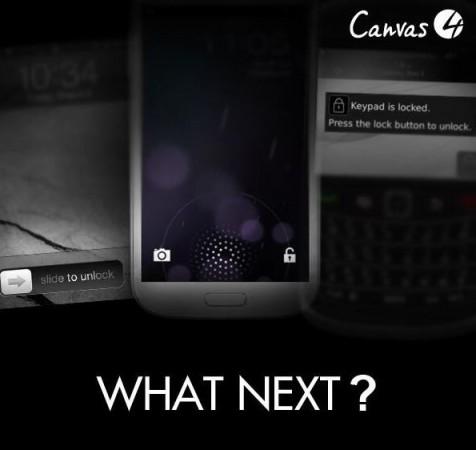 Popular Indian smartphone maker Micromax today released a new snapshot related to its upcoming next generation Canvas 4 on its official Facebook page.
The new promotional picture of the Micromax phone seems to take a potshot at Apple, Android and BlackBerry smartphones, which have horizontal slide, swipe and button based screen un-locking techniques. The new picture tagline read as - "Slide, Swipe, Press to unlock....What's next?" hinting that Canvas 4 might come with an innovative screen un-locking feature, most probably a finger-print or a face-recognition based scanner.
The suspense over the new feature will soon be made public by next week, as the company has already confirmed that the new Canvas 4 will be up for pre-orders starting 28 June.
Earlier last week, Micromax had released two video-ads on televisions during the India-Pakistan match (on 15 June) in the ongoing ICC Champions Trophy, 2013 tournament. The first video showcased the 13.0-megapixel camera with LED flash support and a metal-clad chassis around the lateral side of the Canvas 4.
Second video showed Canvas 4 splitting in to eight devices hinting the new smartphone might pack octa-core processors and a longer battery life.
[To View the Two Teaser Videos: Click Here]
As per recent reports, the Canvas 4 is rumoured to be priced under ₹20,000 and sport a big screen most probably a 5.0-inch display and ship with a stylus to browse large screen.
Karbonn Mobiles is also gearing up to take on Micromax's new flagship Canvas 4 smartphone with the launch of the next generation Titanium S6 with Full HD display and a 13.0-megapixel camera with the same price point.
Both Canvas 4 and Titanium S6 are expected to hit stores next month.