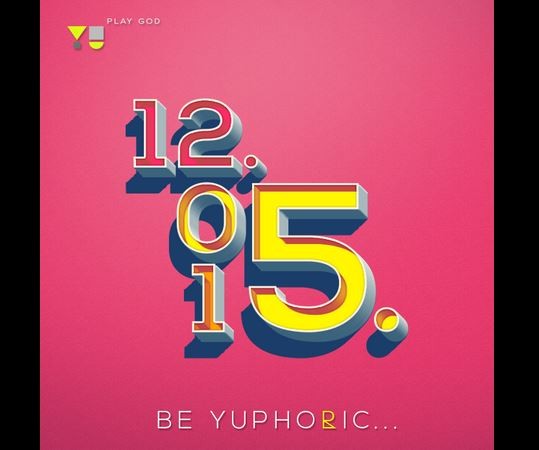 Micromax's subsidiary brand YU Televentures Ltd is all geared up to unveil the new smartphone Yuphoria (aka Project Caesar) on 12 May.
For weeks the internet has been abuzz with rumours of YU Yuphoria features and it has seemingly reached a crescendo with release of series of enticing teaser videos by the company, giving a glimpse of what is in store for fans on Tuesday.
To help get a better perspective on the Yuphoria's key specifications, we have leafed through numerous reports and have put together a list of probable features, which are likely to make the cut in the Micromax YU's new phone.
Display and Build quality:
As per the YU's first video teaser, Yuphoria is confirmed to boast sturdy metal-frame to withstand accidental drops. In the clip, we saw YU phone cracking the floor (ceramic).
[Read more: Micromax YU Yuphoria to Boast Metal Frame, Hints Video Teaser]
Numerous reports have indicated that YU Yuphoria, internally know as Project Caesar will be smaller and more compact than the 5.5-inch Yureka. It is expected to be either 4.7-inch or 5.0-inch screen with HD (1,280x720p) resolution.
Processor, RAM and Storage capacity:
In March, YU indirectly took a dig at the Chinese rival, Xiaomi Redmi 2, by announcing that the future YU device will boast 64-bit class processor, 2GB RAM and 16GB storage. Whereas, the former houses a 64-bit class 410 processor, 1GB RAM and 8GB inbuilt memory.
[Read more: Project Caesar to Boast 64-Bit Class CPU, 2GB RAM, Hints New Micromax YU Teaser]
Though teaser image says 64-bit class SoC (System on Chip), there is no word on which the company it has associated for the processor.
YU's current smartphone model Yureka houses Snapdragon 615 series Octa-core CPU manufactured by Qualcomm, industry's silicon chip leader; so, it is likely that YU would go for the same chipset or lower-end quad-core 410 series to cut costs.
Or there is another possibility that YU may go for affordable Mediatek processors, which are used in the smartphones sold by its sister firm, Micromax.
Taiwan-based Mediatek has made a lot of strides in the chipset industry recently. For instance, the new 1.5GHz MediaTek (MT6752m) TRU Octa-core CPU, which is used in the Lenovo A7000 (₹8,999) has heaped praises from tech pundits.
As per the AnTuTu benchmarks score-sheet, Lenovo A7000 beats expensive flagship devices like Samsung Galaxy S5, Xiaomi Mi 4 and other top-end smartphones.
[Read more: AnTuTu Score Shows Lenovo A7000 beats Huawei Ascend Mate 7, Xiaomi MI4 and Samsung Galaxy S5]
One advantage of having 64-bit processor is that the phone performance and RAM management will more be optimised and efficiently used among the apps. Users are less likely to face lag during multi-tasking. And with help of 2GB RAM, the Yuphoria will be buttery smooth to use.
And most of the Android apps, which are being released this year, are developed using 64-bit class compatible codes, making YU Yuphoria future-proof.
Cyanogen 12 OS (based on Android 5.0 Lollipop):
Cyanogen 12 OS boasts all the new features of Lollipop such as material design elements of visual, motion, interaction design and graphic animation.
In addition to these features, Cyanogen, for the first time has integrated new email app powered by Boxer. It brings multiple account support, exchange support and canned responses for quick replies. Other customisations include sound alerts (bells or whistles), option to select different LED colour display for email notifications and many more.
Why Cyanogen OS is the most popular ROM developers among tech-savvy community?
Cyanogen takes Android experience to the next level like no other mobile software developer does. They provide almost unlimited custom features.
Advantages of using Cyanogen OS include options to remove any app (even the pre-loaded ones which come with the phone), enhanced performance, better RAM management, regular security updates, quick settings configuration option, regular monthly update, privacy guard (gives users the control to what the applications can learn about you and your contacts), Global Blacklist (gives users the ability to flag telemarketers, robo-callers, annoying people and blacklist them) and many other customisation options.
Camera:
So far, there is no word on what kind of camera YU will be incorporating in Yuphoria. But, there is probability that the company might use same specifications used in Yureka.
Yureka houses a 13.0-megapixel camera with Sony Exmor RS sensor, Blue-lens architecture, 5-physical element lens, f/2.2 aperture, 75.4 degree wide-angle, full HD (1080p) resolution recording, LED flash and a pretty decent 5.0-megapixel camera with 71-degree angle lens.
Value-added features of YU Yuphoria:
Advanced Audio system:
On 9 May, YU released its second Yuphoria teaser video hinting that the upcoming smartphone will boast an advanced hair-raising audio system technology, probably Dolby Atmos or DTS based surround-sound stereo speakers.
[Read more: Micromax YU Yuphoria to Boast 'Hair Raising' Surround-Sound Stereo Speakers, Hints Second Video Teaser]
Its rival, Lenovo already sells A7000 with Dolby Atmos system for ₹8,999, so it won't be a surprise if YU Yuphoria comes incorporated with the same audio system.
4G-LTE:
With this connectivity feature, YU Yuphoria owners can enjoy high-speed internet. He/she can download files with 150mbps speed and upload data with 50mbps speed.
[Read More : Micromax YU Yuphoria Launch Live Stream: Where to Watch Smartphone Unveiling Online]
IR (Infra-Red) Blaster or Laser Auto-focus?
So far, IR-Blaster was used to be seen only in top-end smartphones as an alternate option to use handset to operate smart-TVs, but going by the third teaser video of YU, it looks it might be introduced in Yuphoria.
However, the internet is also rife with other speculations as well, some are saying Yuphoria might feature the laser-based auto-focus feature seen in the flagship LG G3 and the most recent G4. But we believe this to be a little far-fetched as Yuphoria is said to be an affordable smartphone priced between ₹7,000 and ₹12,000.
Numerous other theories are also making the round in the web, list include dual-tone flash light, built-in projector, super reflective display, Android Beam, NFC (Near Field Communication) and many more.
Check out the third Yuphoria teaser video below and tell us what you think on the Yuphoria below in our comment section:
Expected specifications of Micromax YU Yuphoria:
| | |
| --- | --- |
| Model | Micromax YU Yuphoria |
| Display | Either 4.7-inch/5.0-inch HD display |
| OS | Cyanogen OS 12 (based on Android 5.0 Lollipop) |
| Processor | 64-bit class either Qualcomm Snapdragon/MediaTek CPU |
| RAM | 2GB |
| Storage capacity | 16GB (expandable) |
| Add-ons | Metal-frame, microSD card slot, Dual-SIM slots, 4G-LTE, Dolby or DTS based surround sound stereo-speakers |