Micromax made quite an impact on Tuesday in both smartphones and wearables. In an effort to dominate all possible categories, Micromax launched a slew of products at its Yuphoria launch event. With all eyes set on Yu Yuphoria, Micromax surprised everyone with a fitness tracker aptly named Yu Fit Band. At first glance, the fitness tracker looks identical to the Mi Band by Xiaomi, but it has its own extra features. Clearly, the Indian smartphone maker is trying to steal the thunder from China-based Xiaomi.
The first wearable by Micromax certainly adds more weight to its product portfolio. At ₹999, the Yu Fit Band is a great choice for those who wish to jump on to the wearable bandwagon. Designed with simplicity, the Yu Fit Band features OLED display that can track steps, sleep and alert users about any incoming calls and messages with a gentle vibrate.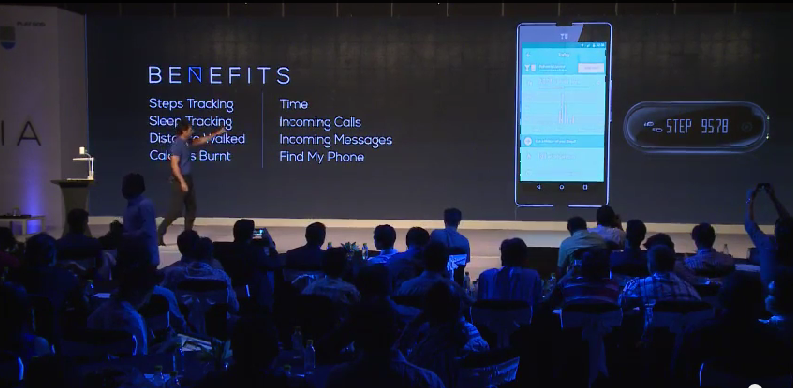 Yu Fit's OLED display offers great value over other fitness trackers in the market. The tiny rectangular display shows the number of calories burnt in a day and counts steps taken by its user. In addition, they can instantly check for missed calls or other notifications from the band without taking out the paired smartphone. Interestingly, Micromax has incorporated a shutter release button for the phone's camera, India Today reports.
To support the fitness band, Micromax is taking advantage of its recent investment in a Bengaluru-based startup, HealthifyMe. There's also an app for Yu Fit band that gives detailed information on calorie content in food. Yu claims that it gives accurate data compared to third party apps like MyFitnessPal.
Additionally, there are motivational features such as group coaching, challenges, achievements, advice and feedback. Each wearer can subscribe for a personal trainer who will be on call to guide 24/7.
To kick off the personal coaching feature, Micromax is offering free personal trainers to the first 1000 buyers.
Related
Micromax Yu Yuphoria vs Huawei Honor 4C: Specs and Price Comparison
Micromax YU Yuphoria Launch Live Stream: Where to Watch Smartphone Unveiling Online