After its unveiling last month, Micromax's flagship model Canvas Turbo A250 made its way to local retailer stores this week.
With a sub-₹20,000 price-tag, the feature-rich Canvas Turbo has emerged as a low-cost alternative to high-end MNC branded smartphones which are usually priced above the budget limit for average consumers in India.
The metal-clad HTC One, despite being hailed as the best Android smartphone in the market, is expected to feel the heat from the local player due its exorbitant ₹40,000 plus price-tag.
Here is the brief specification comparison between Micromax Canvas Turbo A250 and top MNC branded device HTC One:
Design & Display:
Micromax's latest Canvas Turbo A250 flaunts a non-removable aluminium cover on the back side with two plastic bands on top and the bottom. On the other hand, HTC One houses a uni-body aluminium cover with zero gap technology leaving no space between the joints, and thus giving it a premium feel.
Both smartphones boast of high-quality displays in terms of pixel density. Canvas Turbo sports a 5.0-inch full HD IPS CGS (Continuous Grain Silicon) LCD display with pixel density close to 441 ppi (pixels per inch).
On the other hand, HTC One sports a 4.7-inch Super LCD 3 with RGB matrix displayand staggering pixel density of 468 ppi.
Processor, RAM and Storage Capacity:
In terms of power, the HTC model trumps the Canvas Turbo with its 1.7GHz Qualcomm Snapdragon 600 series quad-core processor. The Micromax device packs a slower 1.5GHz MediaTek quad-core chipset.
Both smartphones ship with 2GB RAM and non-expandable storage space, but only differ in capacity. HTC One comes with 32GB inbuilt memory, while Canvas Turbo houses 16GB memory.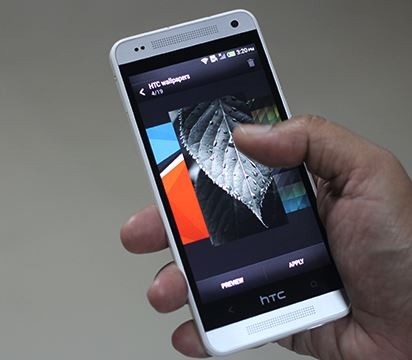 Camera:
Apart from its uni-body feature, HTC One is also hailed for its innovative camera technology. It houses a 2.0-Ultrapixel camera (equivalent to 4.0-MP) with wide f2.0 aperture and is touted to be one of best camera capable of capturing great photos under low-light environment. On the front side, it has a decent 2.1-megapixel camera.
Micromax Canvas Turbo is no less of a competitor; it too flaunts a standard 13.0-megapixel camera with LED flash support capable of recording full HD video and packs a 5.0-megapixel secondary camera on the front. To further enhance the photography experience, Micromax has pre-loaded the phone with photo editing tools like Camerazzi: object eraser, 360-degree Panorama capture, Cinemagraph and a slew of smart gesture control features.
Mobile Operating System:
Micromax Canvas Turbo runs on v4.2.1 Jelly Bean OS, while HTC One ships with v4.1.2 OS out-of-the-box. The HTC model is expected to receive the new Android OS update soon.
Price:
According to latest reports, Micromax Canvas Turbo is retailing around ₹19,000. On the other hand, HTC One has seen a price-drop since its debut in India. Its price is currently hovering around ₹42,000. The dual-SIM model costs a whopping ₹45,000.
Here is the specification run-down of Micromax Canvas Turbo A250 and HTC One
| | | |
| --- | --- | --- |
| Model | Micromax Canvas Turbo A250 | HTC One |
| Display | 5.0-inch IPS full HD (1920x1080p) LCD display with CGS (Continuous Grain Silicon) technology and boasts pixel density close to 441 ppi (pixels per inch) | 4.7-inch Super LCD 3 with RGB matrix display, full HD (1920 x 1080p) resolution and pixel density of 468 ppi |
| OS | Android v4.2.1 Jelly Bean | Android v4.1.2 OS (Jelly Bean) |
| Processor | MediaTek quad-core processor with 1.5GHz CPU speed(Chipset: MT6589T) | Quad-core processor with 1.7GHz CPU speed (Chipset type: Qualcomm Snapdragon 600) |
| GPU | PowerVR SGX544 | Adreno 320 |
| RAM | 2GB | 2GB DDR2 |
| Storage capacity | 16GB(non-expandable memory) | 32GB |
| Camera | Main: 13-megapixel camera with auto-focus, flash support and is capable of recording full HD videoFront: 5.0-megapixel camera | Rear: 2.0 -ultra pixel camera with 28 mm lens, LED Flash, BSI sensor, F2.0 aperture.Front: 2.1 -megapixel camera with HD 1080p video recording |
| Network | 3G | 3G |
| Battery | 2000 mAh | 2300 mAh |
| Add-ons | Dual-SIM, Wi-Fi, Bluetooth v4.0, micro-USB v2.0, metal shell. | Zero-gap Aluminum Unibody case, Bluetooth v4.0,Wi-Fi hot spot, Wi-Fi (802.11 a/b/g/n/ac), NFC (Near Field Communication), HTC BoomSound (front-facingstereo speakers) |
| Price | Around ₹19,000 | Around ₹42,000 |