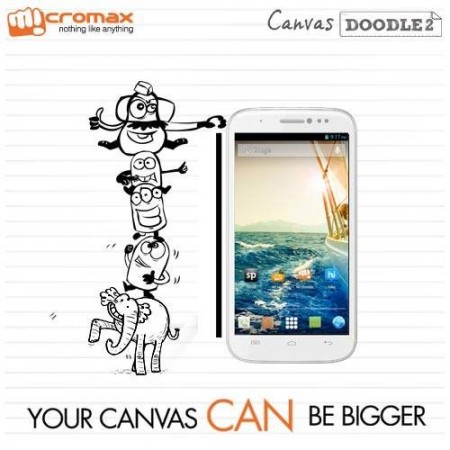 Since the beginning of the year, Indian smartphone market has witnessed a surge in launches of big-screen handsets, especially in 5.0-inch plus devices segment.
Most indigenous players like Micromax, S Mobility and others have cashed in on the phablet fad by offering them at low-prices, giving stiff fight to MNC who offer their devices for more than double the prices of the Indian competitors.
In a bid to counter the monopoly of local smartphone vendors, LG has launched a mid-range 5.5-inch G Pro Lite in India. With a sub₹18,500 price-tag, LG has become a strong contender to take on Micromax's new metal-clad phablet Canvas Doodle 2, which has reaped some rave reviews for its built quality.
Here is a brief description of difference between Micromax Canvas Doodle 2 and LG G Pro Lite
Display:
Micromax's second generation Canvas Doodle sports a 5.7-inch IPS LCD HD (1280x720p) screen boasting a pixel density close to 258 ppi (pixels per inch).
Whereas, LG's new phablet flaunts a bit smaller screen, 5.5-inch qHD (960x540p) display with a pixel density of 200 ppi.
Processor, RAM and Storage:
In this aspect, Canvas Doodle 2 once again scores some additional point with its 1.2GHz MediaTek quad-core processor, which is faster and power efficient than the G Pro Lite's dual-core chipset with top max clock rate of 1.0GHz.
Only downside of the Micromax phablet is that it comes with non-expandable 16GB storage, while LG G Pro Lite though featuring 8GB inbuilt memory, compensates with microSD card slot, which can expanded up to 32GB.
Canvas Doodle 2 and G Pro Lite pack 1GB RAM, sumptuous enough to perform any regular operation and play games.
Camera:
Both Micromax and LG phablets ship with pretty decent camera specifications. Firstly, Canvas Doodle 2 boasts a12.0-megapixel camera with dual-LED flash support on the rear side and a 5.0-megapixel snapper at the front side.
LG G Pro Lite houses an 8.0-megapixel camera with LED flash and 1.3-megapixel secondary camera.
Despite differences in the camera's (main) pixel count, both the devices record full HD (1920x1080p) videos.
Operating System:
LG G Pro Lite and Canvas Doodle 2 run on the same Android OS Platform and the only difference is that they ship with different Jelly Bean versions. Micromax phablet features v4.2 OS, whereas LG device is powered by a v4.1
Price:
Micromax launched the Canvas Doodle 2 in August for ₹19,990 and now the device is selling for around ₹17,500 in the market, whereas LG Phablet made its India debut just few days ago and is available for ₹18,300 at online stores.
Considering specifications, metal-clad Micromax Canvas Doodle 2 trumps MNC branded LG G Pro Lite in terms of processor power, build quality and price wise as well.
But the only nagging problem with Micromax's loyal fans is that the company lacks service centres across the country. Once the company addresses the issue, it is certain to emerge as strong contender as it aspires to become a global brand in coming days.
Micromax is already prepping to launch Canvas Turbo A250 in Russia and Romania by December end in 2013 and has also reportedly been vocal about its ambitions of entering other parts of Europe and US.
Key specifications of Micromax Canvas Doodle 2 and LG G Pro Lite:
Models

Micromax Canvas Doodle 2 (A240)

LG G Pro Lite

Display

5.7-inch IPS LCD screen with HD (1280x720p) display resolutions having pixel density close to 258 ppi (pixels per inch)

5.5-inch IPS LCD qHD(960x540p) display with pixel density close to 200 ppi

OS

Android v4.2 Jelly Bean OS

Android v4.1 Jelly Bean OS

Processor

MediaTek quad-core processor with 1.2GHz CPU speed

MediaTek dual-core processor with CPU speed of 1.0GHz

RAM

1GB

1GB

Storage Capacity

16GB (12GB user memory), no microSD slot

8GB, expandable up to 32GB via microSD support

Camera

Main: 12.0-megapixel camera with dual-LED flash support, full HD 1920x1088p video recording at 30 fps

Front: 5.0-megapixel camera

Main:8.0-megapixel camera with BSI sensor with full HD video recording at 30 fps

Front: 1.3-megapixel camera

Battery

2600 mAh

Talk time: close to 8 hours

Standby mode: up to 220 hours

3140 mAh

Talk time: up to 14.5 hours

Standby mode: 845 hours

Network

2G & 3G

2G & 3G

Add-ons

Dual-SIM, Bluetooth v4.0, Wi-Fi, USB 2.0, GPS, micro-USB v2.0, motion sensor, proximity sensor, stylus

Dual-SIM, Wi-Fi Direct, Bluetooth v3.0, USB v2.0, A-GPS; smart feature: KnockON (screen unlock feature), QuickMemo, QSlide, Qtranslator, Pause and Resume smart video playback feature

Dimensions

161.0 x 82.5 x 8.9 mm

150.2 x 76.9 x 9.4 mm

Price

₹17,040/-

₹18,300/-