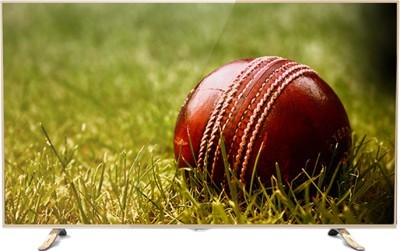 Micromax is offering an affordable range of 4K Ultra HD television sets for consumers with an unbeatable price. The India-based smartphone vendor has stepped up the battle with industry's leading TV makers with two new 4K Ultra HD televisions measuring 42 and 49 inches at just ₹39,990 and ₹49,990, respectively. The new televisions are available exclusively via Flipkart, an Indian e-commerce site which has plans to go global with the new offering.
Micromax's effective pricing strategy is going to strike an immersive response from buyers who gave up on 4K UHD TV range due to over-the-roof pricing but the two new Micromax TVs will serve as an alternative for those who cannot go for the models by high-end makers like Samsung, LG and others.
It may be mentioned that Samsung's 40-inch 4K UHD LED TV costs ₹77,203 on Flipkart and the 48 incher goes up to ₹1,46,000. Similarly, LG and Sony charge ₹119,090 and ₹149,900 for their 49-inch models respectively.
"The new range targets the consumers who want a larger than life experience and desire to access smart android content on a bigger, sharper, crystal clear screen. We are committed to grow this category further and consolidate our position in the television segment in India," Micromax co-founder Rajesh Agarwal told First Post.
Even with the incredibly low price tag, customers will not be forced to compromise on the features of the new Micromax televisions. According to the product listing on Flipkart, both 4K televisions sport eye-popping resolution of 3840 x 2160 pixels and runs on Android. The smaller variant is powered by Android Jelly Bean while the 49-inch model uses Android KitKat. The televisions come with inbuilt Wi-Fi Hotspot, 3 USB ports, 2 HDMI ports and are powered by a dual-core CPU and quad-core GPU. They come apcked with internal storage of 2.2GB, which can be further expanded using a microSD card, and 1GB RAM.
Micromax 49-inch 4K UHD TV is up for grabs for ₹49,990 while the 42-inch model retails for ₹39,990.