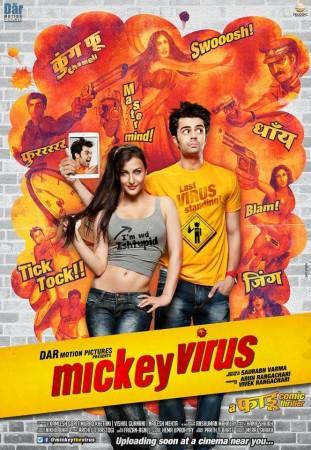 The trailer of "Mickey Virus", debut film of television anchor and funny man, Manish Paul has been released, and he is seen playing a street-smart hacker recruited by Delhi police.
The first trailer of the comedy thriller takes on its light humorous quotient dominantly. Paul, a jobless and happily lazy fellow who is described as 'typical Delhi lad', is faced with the task of cracking up a job as he is hired along with his gang of hackers to solve a case by the police.
The trailer showcases Delhi as its base before going on to a set of hilarious events and in line comes the eye-candy played by Greek model Elli Avram. Another female lead, Puja Gupta is called by the name 'Chutney' and is seen as the outspoken boisterous character.
The film is on the rib-tickling genre of "Vicky Donor" and "Fukrey". It is directed by Saurabh Verma and features actors like Varun Badola, Manish Choudhary, Raghav Kakker and Vikesh Kumar, besides Paul, Avram and Gupta.
The trailer is a funny watch with some quirky dialogues, and one such is Manish Paul's reference to Superman' and his undergarment in reference to responsibilities.
Reacting to the trailer, ace filmmaker Karan Johar tweeted, "The new fun and entertaining new trailer!!! Mickey Virus Official Trailer 2013."
The 'unpredictable comic thriller' is up for release on 13 September.
Watch official Trailer of 'Mckey Virus':