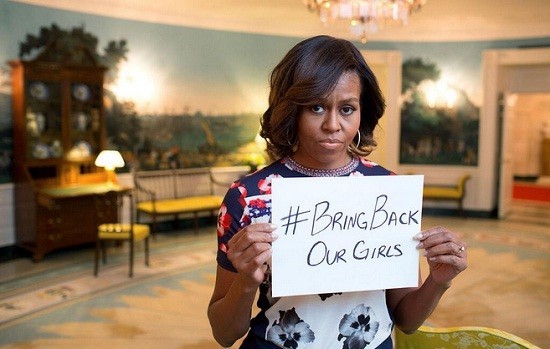 First Lady Michelle Obama has become the latest high profile twitter user to join in the #BringBackOurGirls appeal that is fast turning into a worldwide movement. Supported by over a million people, the movement demands the safe rescue of the abducted Nigerian school girls.
The #BringBackOurGirls that was started by an American mother of two, to raise awareness about the abducted Nigerian school girls has crossed over a million tweets with celebrities such as Chris Brown, Pakistani child activist Malala Yousafzai and Mary J. Blige supporting it.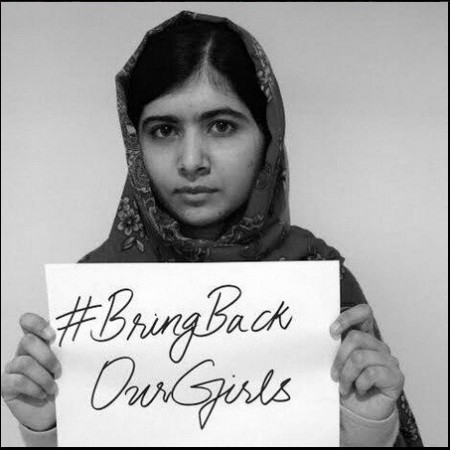 Showing her support for #BringBackOurGirls, the First Lady tweeted: "Our prayers are with the missing Nigerian girls and their families. It's time to #BringBackOurGirls."
With outrage growing over the failure to rescue the girls in Nigeria, protesters around the world are taking to social media sites using hashtags #BringBackOurGirls to demand that more be done for the victims.The social media movement now is fast spreading to Abuja, Washington, Los Angeles, Dublin and London. People from countries such as Middle East, Japan, India and Russia have also joined in the movement.
Singer Mary J Blige tweeted:
It's been two weeks since the kidnapping of 234 Nigerian girls and they still aren't home #bringbackourgirls pic.twitter.com/8OiC5GJPrc

— Mary J. Blige (@maryjblige) April 30, 2014
There has been growing concern over the matter. after the Islamic militant group Boko Haram, in a recent video, took responsibility for the kidnapping and said that the group plans to sell the girls into slavery. Boko Haram that kidnapped over 200 girls from Chibok on April 15 is currently headed by Abubakar Shekau, who is known as a ruthless killer, who wants to establish an Islamic state in Nigeria.
In the video Shekau said: "I abducted your girls. I will sell them in the market, by Allah. There is a market for selling humans. Allah says I should sell. He commands me to sell. I will sell women. I sell women."
Boko Haram's official name is Jama'atu Ahlis Sunna Lidda'awati wal-Jihad, which in Arabic means "People Committed to the Propagation of the Prophet's Teachings and Jihad". But it was given the name Boko Haram in the local Hausa language, which means "Western education is sinful."
[ED:VS]