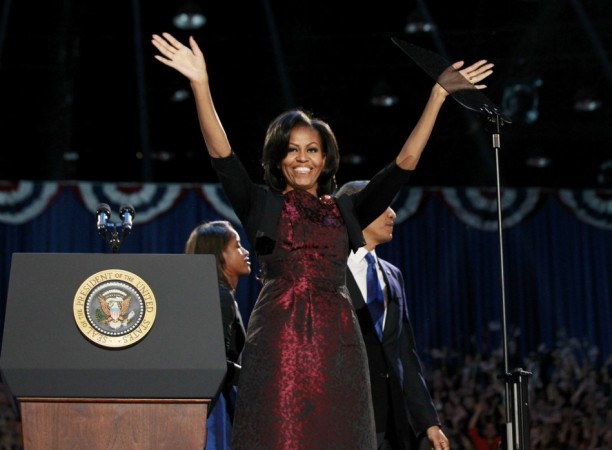 Michelle Obama, who has lent her face and voice to raise money for many charities including those for children, veterans, women and many to erase hunger, homelessness, poverty, etc., will be using her 51st birthday to raise funds for the Democratic Party.
Washington Examiner reported that the Democratic National Committee Chairwoman Rep. Debbie Wasserman Schultz sent out a mail that read:
I don't know if you've heard, but Michelle Obama's 51st birthday is three days away.
And I bet that you think the First Lady is pretty great — so I wanted to make sure you got the chance to sign your name to her birthday card:
Thanks, — she's going to love this.
Another email, from the Democratic Senatorial Campaign Committee reads:
We just love Michelle, from her initiatives to help military families and promote healthy eating, to her steadfast support of her daughters and husband.
And we want to show her — with a birthday card signed by 100,000 committed Democrats!
Once the details for Michelle Obama's birthday card are filled and submitted, patrons are directed to a donor page, wherein donations up to $2,000 are sought.
"Thanks for signing our card for Michelle! Now, can you take the next step and support Democrats?" reads a message in the donation page before the promise, "Unlike our opponents, we don't take money from special interests, corporate lobbyists, and political action committees."
Meanwhile, a mail is awaiting you in your inbox, wherein you are given the option of leaving a personalised message for first lady.
Whether they made the donations for the Democratic Party or not, many of Obama's fans have been wishing her a wonderful birthday on social media:
Pammy posted, "#2015girlswithpearls Yes!! @MichelleObama Have a wonderfully blessed and joyous birthday this weekend."
Amanda Bonds wished, "Happy Birthday Michelle Obama ur my queen!".
"Weird life moments: i just signed michelle obama's birthday card (happy 51st!!)" announced Val Weisler.
Happy 51st Birthday Madame 1st Lady .. Michelle Obama pic.twitter.com/8NpfqqY2tm

— DLB (@DarrellLondon) January 15, 2015