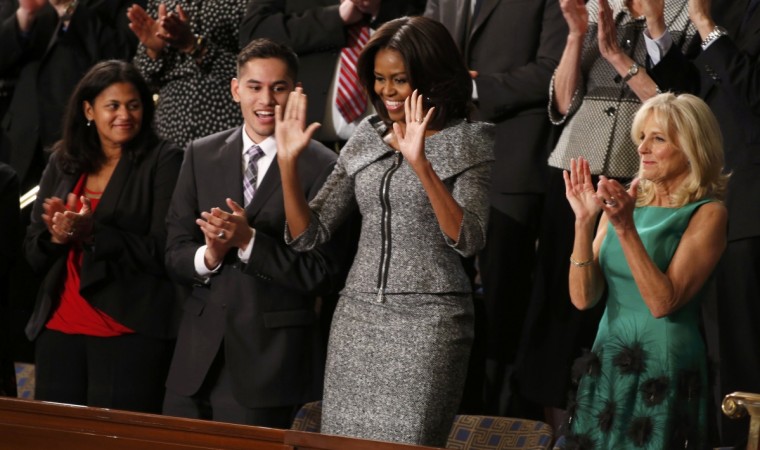 Notwithstanding U.S. President Barack Obama's attempt to highlight issues like cyber security and middle-class economics at Tuesday night's State of the Union address, First lady Michelle Obama stole the show.
Michelle Obama had donned a conservative Michael Kors tweed skirt suit and looked very elegant. Fans called her "flawless", "stunning" and a "picture of perfection", but not many knew that the First lady shared a fashion sense with the lead character of CBS' "The Good Wife", Alicia Florrick.
Some fans of the CBS show recognised that the wide-collared tweed jacket had already been worn by Julianna Margulies, who plays Alicia Florrick in the drama series, last season.
Known as the Origami Collar Tweed Jacket, it is available at a price of $797 (reduced from $1,595 at Neiman Marcus).
In the show, Julianna Margulies' character Alicia Florrick is the wife of former state attorney Peter Florrick, who was jailed after a notorious political corruption and sex scandal surfaced.
One of the first people to observe the similarity in the fashion sense of Florrick and the First lady was Taylor Cole Miller, a University of Wisconsin – Madison Media Studies doctoral student, who tweeted a side-by-side shots of the two women wearing the same outfit.
Another Twitter user wrote: "So Michelle Obama wore the same outfit as The Good Wife"
The 51-year-old was surrounded by various people who seemed to have benefited from President Obama's initiatives.
She was attending the event along with Nicole Hernandez Hammer, a Guatemalan immigrant who raises awareness within the Latino community about climate change, and astronaut Scott Kelly, the brother-in-law of former Democratic congresswoman Gabrielle Giffords. And, the First Lady's guest list appeared to be in line with the issues that her husband chose to discuss Tuesday night.