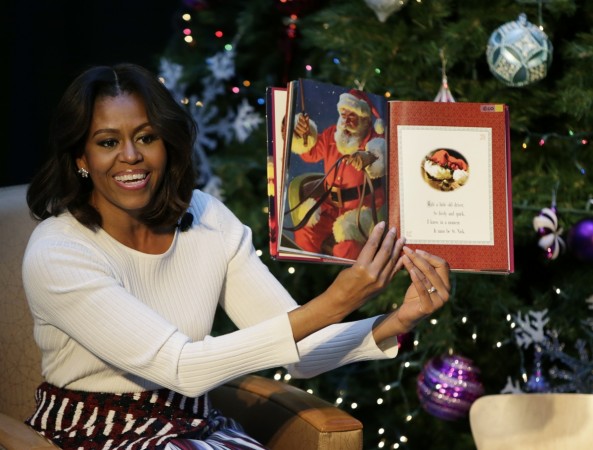 First Lady Michelle Obama has been indoctrinated into SoulCycle cult and was seen leaving a class on Sunday, according to a report by TMZ.
US President Barack Obama's wife was spotted leaving SoulCycle class on Sunday and TMZ has got an exclusive video. The tabloid also got photos of Michelle Obama "leaving the Georgetown area location in a hoodie with a few Secret Service members in tow."
The tabloid went on to report that Michelle Obama was sporting SoulCycle gear and fellow worshippers noticed her being a "regular at the D.C. location since it opened last summer." It went on to report that one of the bodyguards was sporting a gym outfit.
It may be mentioned that SoulCycle is a New York City-based fitness company founded in 2006 and has studious spreading several places like New York, Washington D.C., Connecticut, New Jersey, and Massachusetts among others. It offers a full-body indoor cycling workout class with different themes every month and wears clothing like leggings, t-shirts, sports bras, sweatshirts, sweatpants etc.
Meanwhile, Michelle Obama recently appeared on Ellen DeGeneres show and said she is looking forward to do simple things after her husband steps down as US President.
"People don't realize we can't do little things like open windows," the First Lady was quoted as saying to Ellen DeGeneres by E! Online. "I look forward to getting in a car and rolling down the window and just letting the air hit my face!"
"I haven't been in a car with the windows open in about seven years, if you can imagine that," she added. "So I'm gonna spend that first year just hanging out the window...I just want some wind in my face!"