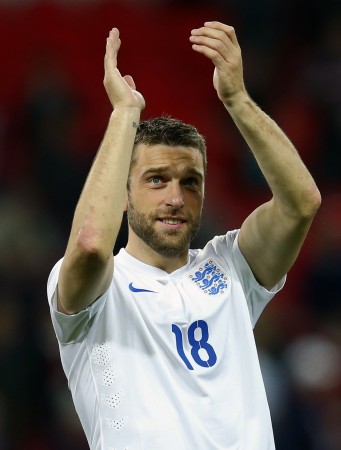 Former Liverpool striker Michael Owen is convinced the Anfield club have signed two great players in the form of Rickie Lambert and Adam Lallana.
Liverpool, who placed second in last year's English Premier League, acquired Lallana for £25 million and Lambert for £4m, and the former Southampton duo will be joining other new signings like Lazar Markovic from Benfica, who came on board for £20m, and Emre Can from Bayer Levekusen.
In an interview to Liverpool's official site, Owen said: "They [Lambert and Lallana] were fantastic last year for Southampton and are proven in the Premier League. You would think Lambert will get his fair share of games now because Liverpool are in the Champions League. There are going to be four competitions to be playing in and lots of games."
Lambert, who started his footballing career by playing for Liverpool at age 10, will definitely feel excited to play for the Reds, once again.
"It's a brilliant story and I can only imagine what it would have felt like for, say, Robbie Fowler to return to his boyhood club. I obviously wanted that throughout my career," stressed Owen.
"So it must be double the excitement having never done it before, wondering 'what if?', to actually go and play for your boyhood club at such an age.
"You've just got to love it, you've got to smile when you see the smile on his face. Playing for a team like Liverpool, that he's supported all of his life, it's a great story. I hope Rickie has a good season."
Owen also expressed a strong liking towards Adam Lallana, who he thinks will support the team quite well from the midfield position.
"Lallana could be a star. He has done fantastically well, has great feet and lovely balance. I'm really looking forward to seeing him in the Liverpool shirt. They are two good buys." he added about Lallana.
Liverpool were in great form last season, thanks largely to Luis Suarez, but missed out on claiming the Premier League title, losing out to Manchester City. Owen said his former team will need to be at the top of their game, yet again, if they are to go one better next season.
"If Liverpool are going to progress again, they probably need to get better again," the 34-year-old. "Manchester City won the league, Chelsea have strengthened in a big way. From second to first is a big leap so Liverpool are going to need to be better again and the top-line performers are going to need to play as well, if not better."
Meanwhile, in an interview to talkSPORT, Owen said he does not see Arsenal finishing in the top four this season despite the big-money signing of Alexis Sanchez from Barcelona.
"The signing of Sanchez has made everyone sit up and take note. I really do rate him, he's a top player and it's a big step in the right direction." he said "But, in no particular order, my top four for next season would be Chelsea, Manchester City, Manchester United and Liverpool."