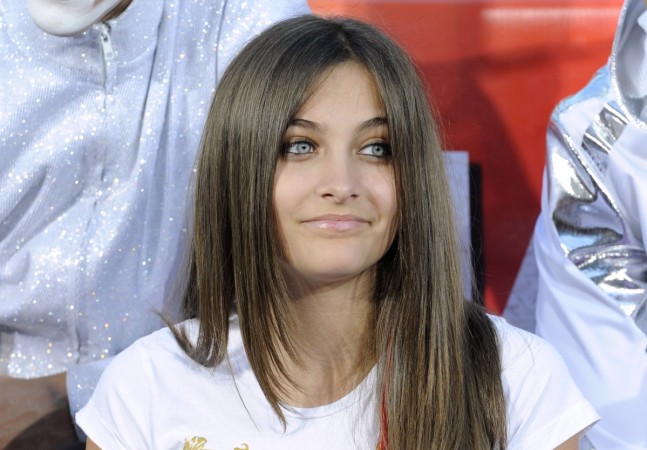 The late King of Pop Michael Jackson's only daughter Paris Jackson's relationship with Michael Snoddy has upset her family members, who feel the 26-year-old isn't a good influence on Paris.
Apparently, Paris has changed a lot since she got together with Snoddy. After chopping off her hair and dyeing it platinum blonde, she has now added a tongue ring to her tattoo-dotted looks.
Paris had the piercing done by celebrity body piercer Chris Saint at Timeless Tattoo & Body Piercing in Los Angeles. "You're awesome always a pleasure having you at the shop. See you soon for the next one," Saint wrote on Instagram with a re-post of Paris' picture.
Paris' grandmother Katherine is apparently not a fan of her new style. "She's totally out of control!" a Jackson family source told Radar Online. "Katherine absolutely detests this style of dress," said the source. "She is not into tattoos or piercings at all. Paris is completely going against her family's religious beliefs by getting these tattoos and piercings."
"Her family is just plain scared now," said the source. "They believe that this is 100 percent the influence of her new group of friends and her new boyfriend Michael."
Paris and Snoddy reportedly fell in love shortly after meeting at an AA meeting. Snoddy has the tattoo of the Confederate flag on his arm and the Jacksons, excluding Paris, see this as highly offensive as Michael was black. But Snoddy has scoffed at claims he is racist, saying he wouldn't be dating a black girl if he were racist.
Paris has also severed ties with her biological mother, Debbie Rowe. The 18-year-old, who is digitally savvy, recently unfollowed her mother on Twitter, Facebook and Instagram. "One of the saddest things in this world is to see a child grow up hating one of their parents because they only got one side of the story," Rowe wrote on Facebook, expressing sadness at Paris' estrangement, reported Daily Mail.