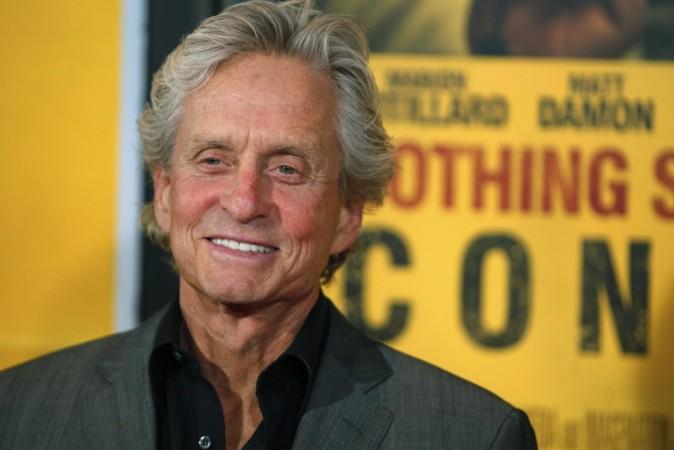 In a shocking interview to The Guardian, Hollywood A-lister Michael Douglas revealed that oral sex was the cause behind his life threatening throat cancer.
When suggested the overdoing of smoking and drinking might have led to the fatal disease, Douglas clarified, "No. Because without wanting to get too specific, this particular cancer is caused by HPV (human papillomavirus), which actually comes about from cunnilingus."
According to doctors, throat cancer is caused by Human Papilloma Virus (HPV) infection which is widely possible through oral sex with multiple partners.
The 68-year-old actor added, "I did worry if the stress caused by my son's incarceration didn't help trigger it. But yeah, it's a sexually transmitted disease that causes cancer. And if you have it, cunnilingus is also the best cure for it."
The "Basic Instinct" star was diagnosed with stage 4 throat cancer on August 2010 and had to undergo several sessions of chemotherapy. The actor has in the process lost around 20 kilogrammes since his diet was only liquids. He had refused to have a feeding tube inserted.
Douglas is now relieved after his excruciating battle with cancer. Despite being free from the disease for the past two years, he still has to have regular check-ups every six months.
Douglas is married to Welsh star Catherine Zeta Jones and has two children. He also has another son, Cameron, from a previous marriage to Diandra Luker.
Prof Andrew Grulich, head of the HIV epidemiology and prevention program at the University of New South Wales, praised Douglas for "going public about it and raising awareness."
Only weeks ago, Angelina Jolie shocked the world with the news of her double mastectomy. She had decided to undergo the procedure after was diagnosed with an 85 percent chance of having breast cancer.