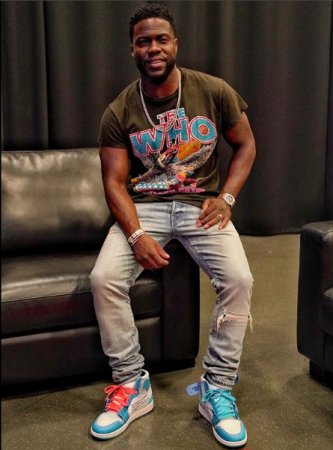 After Kevin Hart was forced to step down as the host for the 2019 Oscars, several comedians have come to his defence. Michael Che and Nick Cannon are at the forefront of those defending Hart and for calling out the hypocrisy of the reaction to Kevin Hart's homophobic tweets.
Michael Che used his Saturday Night Live sketch the 'Weekend Update' to address the controversy surrounding Kevin Hart. "Well, that was short," "Weekend Update" co-host Michael Che said of Hart's stepping down after tweets from the comic with homophobic slurs had resurfaced.
Che went on to defend Hart, saying, "Didn't the Academy nominate Mel Gibson for an award just last year?" he asked, referencing controversial racist statements the director made a few years ago. "Also, if Kevin Hart isn't clean enough to host the Oscars, then no black comic is. The only black comic I know that's cleaner than Kevin Hart is booked for the next three to 10 years," Che said as a picture of Bill Cosby was shown.
But Che was not the only one to come to Hart's defence, Nick Cannon took to Twitter to point out how many comedians have used homophobic rhetoric in their comedy. He called out female comedians by posting their homophobic tweets for all to see.
"Interesting I wonder if there was any backlash here," Cannon wrote in a tweet on Friday, embedding a 2010 tweet by Chelsea Handler stating, "This is what a f-- bird likes like when he flexes."
Next, he tweeted a 2010 post from Sarah Silverman that said, "I dont mean this in a hateful way but the new bachelorette's a f-----." His caption: "And I fucking love Wreck-It Ralph!" (Silverman voices the character Vanellope in the movie.)
Finally, Cannon embedded a 2012 tweet from Amy Schumer reading, "Enjoy skyfall f---. I'm bout to get knee deep in Helen Hunt #thesessions"
Though Cannon never explicitly mentions Hart in his tweets, it doesn't take a genius to figure out that it is Hart who he is defending.
You can see the tweets here:
I dont mean this in a hateful way but the new bachelorette's a faggot

— Sarah Silverman (@SarahKSilverman) May 25, 2010
This is what a fag bird likes like when he flexes. http://tweetphoto.com/26898127

— Chelsea Handler (@chelseahandler) June 12, 2010