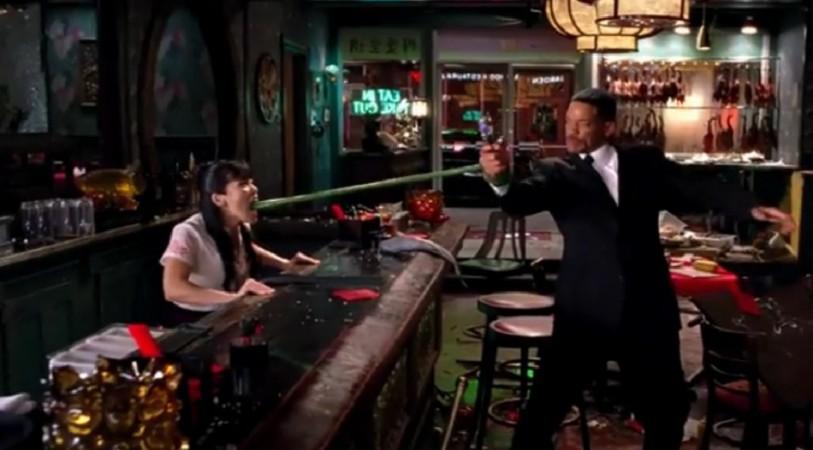 Men In Black 3 (MIB 3) will hit Apple stores and Google play stores in the form of a video-game before the movie gets released in the theatres. The MIB 3 production house has roped in one of the popular mobile phone developers, Gameloft, to create the video-game version of aliens-oriented action-comedy flick, Men In Black 3 (MIB).
It has been a latest trend to release video games based on super-hero films or action films before the actual movie hits the theatre, in order to grab the much-needed attention from the audience.
This is a new marketing technique executed by film producers to promote their upcoming movies. However, this strategy which has so far been popular in Hollywood has slowly started to attract Indian film makers too.
Bollywood actor Shahrukh Khan was seen promoting a couple of films this way. Vidoe games based on his movies Ra One and Don 2 were released before the movies last year.
MIB 3 video game is slated to release on May 17, exactly a week before the movie's release on May 25. The video game will be available in iOS and Android app stores for free.
Men In Black film series is a huge hit amid film goers. The first series was released in 1997. It is a science fiction comedy flick, where two agents codenamed 'J' and 'K' fight aliens to save the world, using never seen before futuristic vehicles, space guns and fictional objects.
Take a look at the official game trailer of MIB 3.
Now the players of MIB 3 game can maintain their own MIB team with agents, who are as good as superheroes and take on aliens to save the world.
"For the first time ever, you will be in charge of your own MIB agency. On the field you'll embody a young agent, who, with the help of Agent O, Agent K and Frank, will fight against a new threat to humanity lead by the vile Radiant," read a statement by Gameloft.
Exited! Wait till May 17, to find your Men In Black 3 game available on iPhone, iPad & Android app stores.