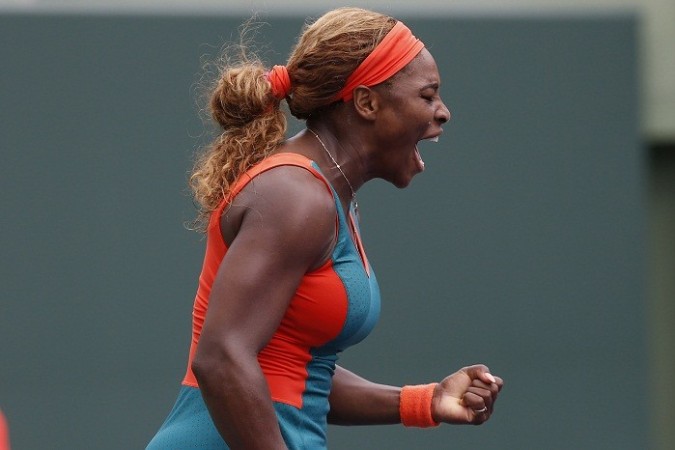 It's not just the heat and humidity that's making the players sweat it out in the centre at the Miami Sony Open, but the quality of play too. It took two exhausting hours for Russia's Maria Sharapova to mark a victory over Kirsten Flipkens 3-6, 6-4, 6-1 in the Stadium Court on Monday.
Sharapova is pushing herself to finally take home the Miami title after being runner-up five times. "Of course it would be meaningful for me to win this tournament after being so close. Definitely," the four-time grand slam champion said. "Of course you want to be able to hold the winner's trophy, but you also know the matches you've got to get through to get to the final stage.
"It's not like I didn't have my opportunities in those finals. I just didn't take them. That's why you come back and hope for another chance."
Sharapova didn't make the best of her opportunities in the first set against Flipkens either, with ten unforced errors in the opening set. The Russian came back into the match in the second set breaking her opponent three times.
"I usually like playing first match on, but I didn't start off the way I wanted to," Sharapova added. "Nothing was working in the first set. You know, I haven't been very consistent in the beginning of this year. I have had some tough three set matches that I have lost. You try to turn that around. I feel like every little step, whether it's from inside or outside, you've got to put yourself out there and put yourself in positions to keep going."
If Sharapova came back from a rough first set, Ana Ivanovic suddenly lost her way completely after a comfortable first set against former Wimbledon champ Petra Kvitova. The match was so dramatic that Ivanovic breezed through the first set but couldn't put a game on board in the next two as Kvitova won 3-6, 6-0, 6-0. Kvitova will face Sharapova in the quarterfinals.
Serena Williams, on the other hand, will face Angelique Kerber in the quarters after having defeated US qualifier Coco Vandeweghe 6-3, 6-1. But, Williams, who made 13 unforced errors, was of the opinion that the match was closer than the scoreline suggested. "She had such an amazing serve," Williams said of her compatriot. "I just hoped I'd touch the ball."