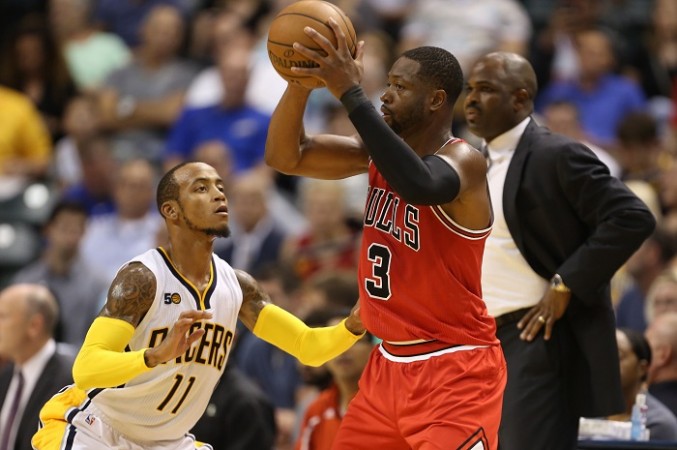 It is going to be weird to see Dwyane Wade playing in the Miami Heat arena in away colours, but that will be the scenario when the Chicago Bulls pay a visit for a crunch NBA game on Thursday. Wade, who moved to the Bulls in the offseason, won three NBA titles with the Heat and is considered one of the greatest players ever to feature for the franchise.
Wade will make a return to the team he called his own for the first time since signing a two-year deal with Chicago, a surprise because the guard was widely expected to end his career in Miami.
The veteran is expected to be given a big welcome from the crowd and there will be an emotional moment or two there as well with the Heat are scheduled to pay a video tribute to their legend.
Asked how he would feel watching the video, Wade said: "I don't know. I've only experienced it from clapping for other guys who came back. I've always been appreciative of the guys who came back and the tributes they got. I have no idea."
Wade, who has averaged 16.9 points per game so far with his new team, will be one of the key players for the Chicago Bulls, but it will be interesting to see how he handles his emotions.
Once the Wade-returns-to-Miami dust settles, this will end up being an important game for both teams. While the Heat have started the season 2-4, the Bulls are 4-4, so both franchises need to get a run going to ignite their season.
The Bulls lost their last game, 115-107 to the Atlanta Hawks, while the Miami Heat suffered defeats to the Oklahoma City Thunder and the Toronto Raptors in their last two games.
Chicago will be playing their second game in as many days and third in four nights, and Wade would have liked it better had there been more of a gap before such a big encounter from his perspective.
"I'm going to take advantage of the moments I'm there ... and go out and compete in an arena that I played for 13 years, an environment that I'm used to," Wade added.
"So it's going to be fun from that aspect, but I would love it if the schedule gods would have looked at it a little better and not gave us this on a back-to-back."
Where to Watch Live
The game is scheduled for an 8pm ET (1am GMT, 6.30am IST) start.
USA: TV: TNT. Live Streaming: TNT Overtime.
India: No Live coverage.
UK: TV: BT Sport. Live Streaming: Watch BT Sport.
International (including India): NBA Online.