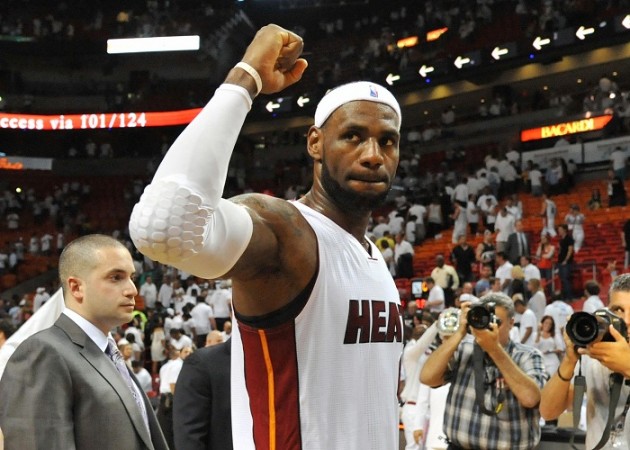 Free agent LeBron James is set to meet the president of the Miami Heat Pat Riley, before making a decision on staying at the American Airlines Arena or moving to a new NBA franchise, according to reports.
James is expected to reunite with the Cleveland Cavaliers in the next NBA season but Riley has a chance to convince the four-time MVP, before he makes a final decision regarding his future.
The place and timing of the meeting remain undisclosed but reports state that it may take place in the next couple of days.
The meeting is important also because if James decides to leave, Chris Bosh will also consider quitting Miami and move to his home franchise the Houston Rockets.
According to reports, Houston has offered a four-year contract worth $88 million to Bosh. The 30-year-old is seriously considering the offer and is supposed to have met James to discuss his potential move.
There are no clear indications from James that he is set to leave Miami after four seasons but according to ESPN, the 10-time NBA All-Star is seriously considering Cleveland's offer. They also reported that the Cavaliers firmly believe that they are set to reunite with James.
When James left his hometown franchise in 2010, the owner of the Cavaliers Dan Gilbert slammed his decision and called him selfish and callous in an open letter. But the representatives of the two-time NBA champion have bridged the gap between the duo.
Gilbert's open letter to the fans has also been taken down from the Cavaliers' website and reports on social media claim that a private jet of Gilbert was spotted in Florida. However, it is unknown that who all were there on the plane.
James, after losing the NBA Finals to the San Antonio Spurs, had exercised his contract termination clause. The 29-year-old joined Miami and won two back-to-back titles in 2012 and 2013, after spending seven years with the Cavaliers.
He was set to make $20 million next season with the Heat but decided to become a free agent, like he did in 2010. According to ESPN, James' agents have already made it clear that they are aiming to get a 'maximum-level' contract for the NBA superstar, which would be no less than $20.7 million.
The Los Angeles Lakers and the Houston Rockets are also in the fray to sign the star but it looks like James is set for a homecoming this season.