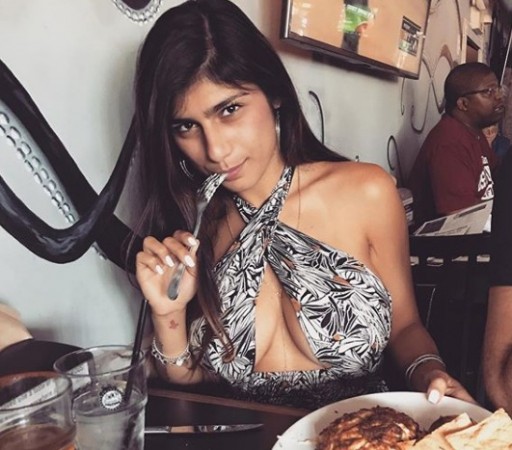 Hotness Alert!
Mia Khalifa knows how to turn the temperatures soaring even in the fall season. The former porn star, who is extremely active on Instagram, recently posted a raunchy photo teasing followers in her Instagram Story section.
The 24-year-old stripped down to sport a lacy set of lingerie and showed off her voluptuous figure for her followers (and maybe even NBA star Stephen Curry).
Also Read: Is this Malala Yousafzai in western attire? Trolls begin moral policing, say she resembles Mia Khalifa
In the black and white picture, Mia's curvy assets are in focus. Giving a good view of her torso, the star added a cat-eye shaped glasses filter to put in a flirtatious tone to the hot picture. After posting the lingerie clad picture, she posted another picture with a close-up of her face.
The raunchy tease comes just a few days after she was trolled for posting a controversial image on Instagram. Mia posted a morphed picture of herself as Mother Mary with the caption: "When a news outlet mistakes Malala for Mia Khalifa." The post resulted in many fans lashing out at her.
"I like you, but this is NOT funny :(," a fan commented on the picture. "Disgusting...this is not a good thing to make a fun.you should have some respect to other religions too.no one can compare themselves to virgin mary..just remove this.may God forgive you," wrote another.
However, this is not the only thing she made headlines for recently. Mia is star-struck and is craving for NBA player Curry and recently posted a tease on Twitter reaching out to the athlete.
Showing off her freshly painted nails, Mia is seen seated by the bonfire in the picture. The caption reads: "Sup, @StephenCurry30?" However, this did not impress Curry's wife. According to Hollywood Life, Curry's wife Ayesha found the picture disrespectful.
"Mia acts like she's not a porn star anymore, but with low-class moves like this she's showing her true colors. Ayesha was really disturbed when someone showed her the online flirting by Mia. Steph is a good father and family man," an insider close to Ayesha told the website.
"Ayesha feels that in this day and age when women are being sexually harassed, they are supposed to be supportive of one another. It's terrible that Mia would do something like this. Ayesha isn't about to play games either — Mia better respect her and her marriage or she will be dealt with," the source added.