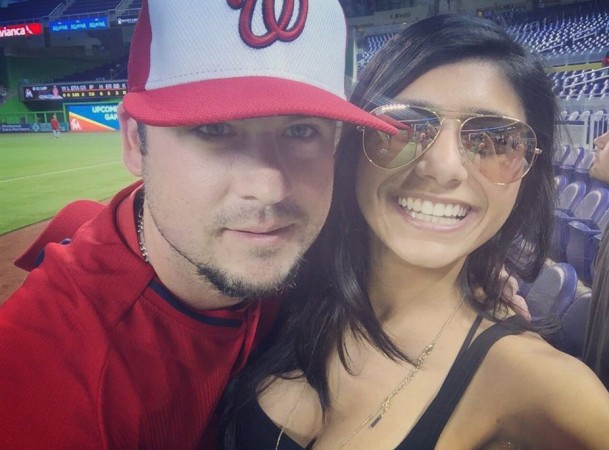 World famous PornHub sensation Mia Khalifa is well known among fans for having an interest in sports, especially hockey and basketball. However, the porn star proved recently that she is not one to limit herself to just this or that when it comes to sports.
In an attempt to expand her horizons, Khalifa had gone to the Nationals Park — the home ballpark for the Washington Nationals, who are Washington DC's Major League Baseball franchise. Khalifa, who was visiting the park, shared a few photos from the mini-tour on Tuesday, April 19.
The series of photos shared on her Twitter feed began with a selfie featuring Sean McCauley who recently moved from Potomac Nationals to the Washington Nationals. The seemingly star-struck Khalifa captioned the photo, "Sean McCauley, fresh from the @PNats42 to the @Nationals⚾️."
Khalifa further enticed her fans with the promise of going nude and running in the park if she gets 50,000 retweets for a post:
Sitting right behind Nat's dugout. 50k RTs and I'll streak the field to make SC Not Top 10. pic.twitter.com/SQjdFHY87X

— Mia Khalifa (@miakhalifa) April 19, 2016
This, of course, led several fans to try and rally up others and make it happen. Cupper and The Bardock Obama told Khalifa fans to "squad up." Unfortunately, though, so far there are only around 10,000 retweets for the post.
Despite the desperate attempts to meet the 50,000 mark, Khalifa has already said that she has left the park. "I already left, y'all. I'm gonna stick to hockey," Khalifa tweeted. However, fans did get a photo of Khalifa fake pitching, in which she looks adorable and stunning. It almost makes up for not streaking. Okay, may be not. Here it is, anyway:
Move over, Stras, next @Nationals star pitcher has arrived. pic.twitter.com/d9IHJEp6oV — Mia Khalifa (@miakhalifa) April 19, 2016