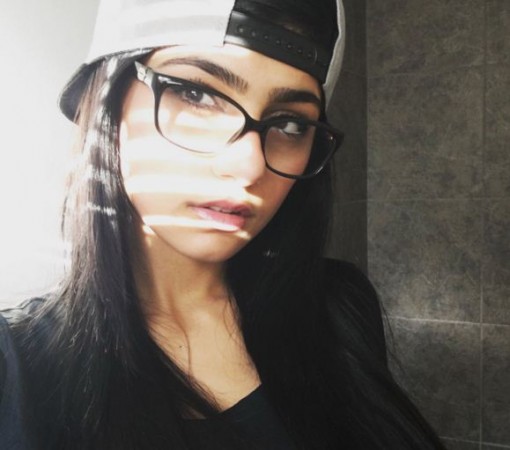 Mia Khalifa, the most searched and popular adult film star, doesn't quite often share her Amazon wish list on her Twitter page, but when she does, it definitely gets the twitterati curious about what's on it. And now, the Pornhub star has finally revealed and updated her list of goodies and gifts, and it looks very Italian.
When Khalifa didn't share her wish list during Christmas, it got the twittersphere wondering. But now, the fans who have been waiting to see the Lebanese-American bombshell's Amazon wish list, have finally got a glimpse of it.
CLICK HERE to find out what's on Mia Khalifa's latest Amazon wish list.
The 23-year-old porn star, on the Amazon page has even requested people to share their email ids so that she could thank them. She wrote: "guys, please include either an email or social media handle so i can thank you properly!"
Khalifa on March 25, finally revealed her latest Amazon wish list on her Twitter account. While sharing the link to her Amazon wish list page, she wrote: "Finally updated my Amazon wishlist."
Many of her fans are surprised to see the items on that list as it includes a whole lot of kitchen cookware, cookbooks and Italian cooking ingredients — to be precise there's too much material to bake a lot of pasta.
While many of her fans were amazed not to find any "fleshlight or something on the list," others were mighty impressed to see that the porn star has a hidden chef inside her, who loves to cook.
Some fans are seeing this wish list, which also includes a Final Fantasy VII: Remake and a TruffleHunter, as a way to win Khalifa's heart.
@SeanRKennedy replied: "making some pasta and playing some Final Fantasy! Pretty nice little Saturday!!"
@tripp_1592 wrote: "after seein your wishlist, youre my dream wife now.... can i buy your whole wishlist?"
@meetloveguru wrote: "looks like someones planning to settle down in life!!!"
It looks like the way to Khalifa's heart is through her kitchen and fans now know what to buy their favourite Pornhub star to impress her.