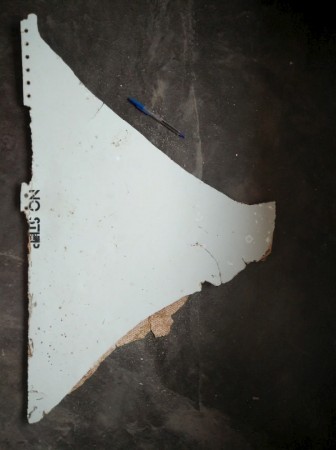 After a piece of metal believed to be the debris of a Boeing 777 was found on the coast of Mozambique Wednesday, reports have pointed at the possibility of the metal coming from the missing Malaysia Airlines MH370 flight. March 8 will mark the second anniversary since the plane went missing with 239 people on board while on its way from Kuala Lumpur to Beijing.
Australian Transport Minister Darren Chester said in a statement Thursday said "the location of the debris is consistent with drift modelling commissioned by the Australian Transport Safety Bureau (ATSB) and reaffirms the search area for MH370 in the southern Indian Ocean."
Malaysian Transport Minister Liow Tiong Lai also took to Twitter to say there was "high possibility debris found in Mozambique belongs to a B777." However, he warned against speculations as investigations are still on.
According to NBC News, "early photographic analysis" of the debris found in the Mozambique channel suggests it could have come from the missing MH370 plane. Sources told the American media organisation that there was a "good chance" the object was from a Boeing 777, the same aircraft model as the MH370 flight.
The metal part, which could be a plane's horizontal stabiliser attached to the tail, was found in the same part of the southern Indian Ocean where a flaperon washed ashore on Reunion Island last July.
The Australian minister said that the debris will be transferred to Australia and will be examined by officials from Australia and Malaysia, as well as by international specialists. The object is currently said to be in the possession of the Mozambique government.
As per reports, the object was discovered on the Mozambique beach by American blogger Blaine Alan Gibson, who has been conducting his own investigation to solve the MH370 mystery by travelling to islands in the Indian Ocean.
The Australian Transport Safety Bureau (ATSB), which is leading the underwater search for MH370 in the southern Indian Ocean, said in its update Wednesday over 85,000 square kilometres of the seafloor have been searched so far, and 120,000 square kilometres will be searched till mid-2016. However, if the search fails to yield results, the search area will not be expanded.