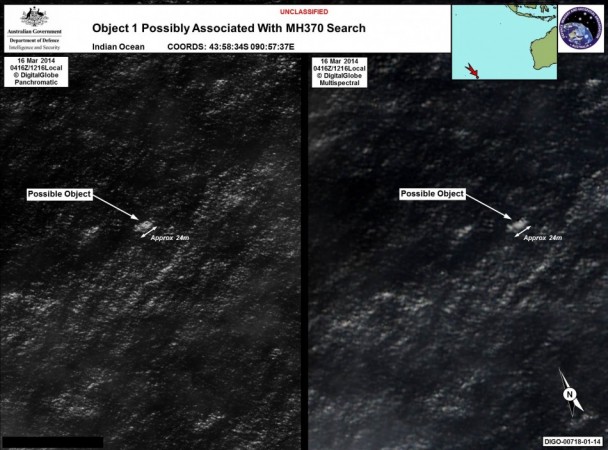 Malaysian officials have said that a satellite has captured images of 122 objects in the Southern Indian Ocean that could be from the missing Malaysia Airlines flight MH370.
Malaysia's acting Transport Minister Hishamuddin Hussein said on Wednesday that the objects appeared to be close to where three other satellites previously detected similar objects. He added that the sightings together are "the most credible lead that we have."
The images were reportedly taken on Sunday and were dispatched by French-based Airbus Defense and Space. The said objects ranged in length from one to 25 yards.
This comes after various other images of the possible objects from the plane were spotted by satellites and planes, but none has been retrieved or identified.
Meanwhile, investigators are trying to fix together a newly learnt mystery of a last ping from a satellite that is said to have been sent from the missing Malaysian jet.
The sixth ping, sent from the aircraft at 8:11am was initially used by investigators to establish the search area in the northern and southern corridors. Hussein revealed on Tuesday that the investigators observed a seventh and partial handshake that was sent out at 8:19am from the aircraft, which was not yet explained.
"At this time, the transmission is not understood and is subject to further ongoing work," Hussein told reporters at a press conference on Tuesday.
Malaysia's Prime Minister gave some sort of finality to the case of the missing plane MH370 on Monday, in a chilling late night announcement and a bold SMS was sent to the family members of the passengers onboard.
PM Najib Razak said in a news conference, citing data and satellite analysis from a British company called Inmarsat, that MH370's journey "ended in the southern Indian Ocean". He said that the last known position of the missing plane was in the middle of the Indian Ocean. Razak expressed "deep sadness and regret" while informing the news to the family members.