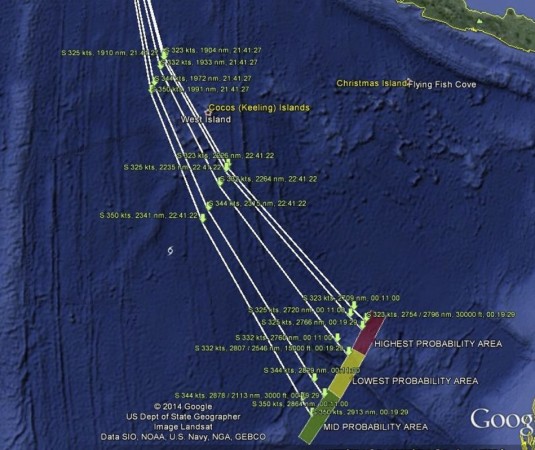 The first official Malaysian government report on the missing Malaysia Airlines flight MH370 reveals that it took 17 minutes for air traffic controllers to realize that the aircraft had disappeared from their screens - and four hours to launch a rescue operation.
The preliminary report, that was marked 'confidential', was released Thursday on the Facebook page of acting Malaysian Transport Minister Hishammudin Hussein.
The 23-paragraph government report has been sent to the international Civil Aviation Organization, the UN body for global aviation.
The report notes that the plane disappeared from radar in Kuala Lumpur at 1: 21 am and should have checked in with the air traffic control in Ho Chi Minh City, Vietnam. There is no indication on whether it did so.
It was only after 17 minutes that the traffic controllers realized what had gone wrong and it took the Malaysian government four hours to launch an official rescue operation, which began at around 5:30 am under the supervision of Kuala Lumpur Rescue Coordination Centre.
Doug Maclean, air traffic control consultant at DKM Aviation, told the Guardian that the delay in querying the missing plane was "extraordinary".
"If an aeroplane went missing on a handover between two countries you could expect some kind of action within 3 to 5 minutes maximum. In Europe or America you would be on the phone within three minutes - 17 minutes is quite an extraordinary length of time."
MH370 disappeared from the civil radar shortly after taking off from Kuala Lumpur at 12:41 am on 8 March, bound for Beijing, with 239 people on board. Although it was initially believed that it was deliberately diverted, investigators say they have not ruled out any possibility.
The report stated that that Ho Chi Minh air traffic control "made a query" with Kuala Lumpur air traffic control at 1: 38 am "on the whereabouts of MH370."
"No contact had been established by any ATC units and thus the Rescue Coordination Centre (RCC was activated at 5:30 am," the report says without elaborating on the four-hour delay.
More than 55 days after the mysterious disappearance of the ill-fated flight, a massive international team is still looking for signs of where the flight could have ended or landed.
"Despite such an intensified search operations, probably the largest one in human history, we have to face the hard reality that there is still no trace of the aircraft, and the fate of the missing passengers and crew remains unknown till this day," Malaysia Airlines said in a release, adding that search operation in the southern Indian Ocean will be moving "to a new phase in the coming weeks, and it is certainly not ending."