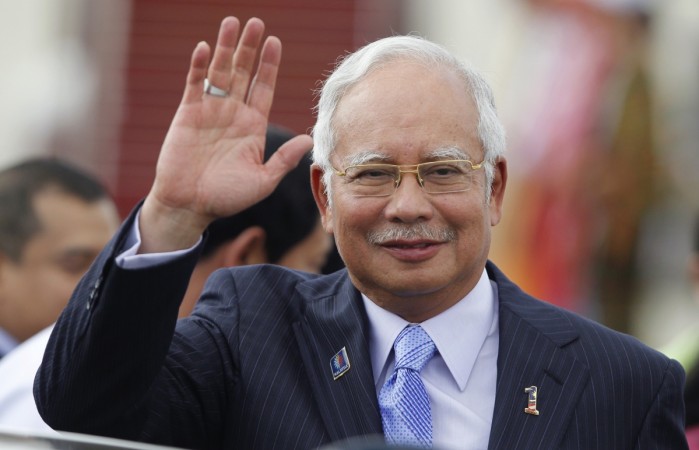 The disappearance of the Malaysian Airlines flight MH370 is as much a mystery now as it was on March 8, the first day the Beijing-bound plane simply vanished without trace.
But Najib Razak, the Prime Minister of Malaysia, has now chosen to express his astonishment on how an airliner could simply disappear and not resurface, more than two months after the bizarre occurance.
In a first-of-its-kind opinion piece written in the Wall Street Journal, Malaysia PM Razak went out of his way to express his surprise over the mystery that has gripped the aviation industry for well over two months.
Describing what happened on March 8, he said the flight between Kuala Lumpur and Beijing was handed over by the air-traffic controllers in Kuala Lumpur to their counterparts in Ho Chi Minh City, in the early hours of the day. And that was when the plane's communications systems got disabled.
"MH370 went dark," he said in an unparalleled style.
"Instead of heading to Beijing, the plane made a sharp turn across peninsular Malaysia, traveled north up the Straits of Malacca, made a U-turn south over the coast of Sumatra and ended in the southern Indian Ocean, half way to Antarctica. Little wonder that words commonly used to describe MH370 include 'bizarre' and unprecedented'," he pointed out.
Razak also stated that equally unprecedented were the techniques used in the search for the plane.
"In absence of contact via normal aircraft communications, the international investigation team - which includes the world's best aviation experts - was forced to turn to satellite 'handshakes,' mathematics and sophisticated techniques never before used to find a missing aircraft," he added.
Pledging that Malaysia will keep searching for the plane for as long as it takes, Razak also stressed that further actions must be taken so that governments may be able to tract aircrafts in real-time.
"In an age of smartphones and mobile internet, real-time tracking of commercial airplanes is long overdue," he said in the article.