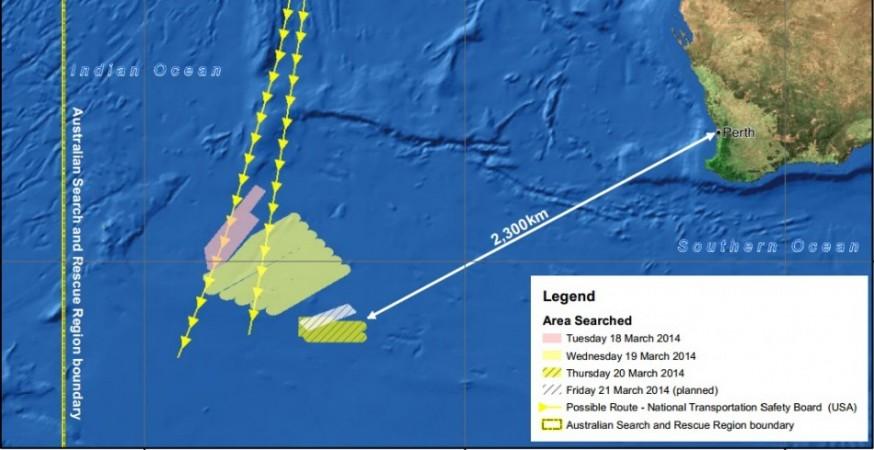 It appears that Australia's claim of coming closest to finding the missing Malaysian Airlines Flight MH370's debris only raised a momentary alarm among hopeful onlookers as the task of locating the plane's whereabouts has become increasingly daunting with each passing day.
The first thing is the natural obstacle of the massive Roaring Forties, and the aggressive westerly winds and turbulent waves that features in the location where Australia said it spotted possible MH370 debris.
The second obstacle stems from politics. India has declined China's request to allow four of its warships to come near the Andaman and Nicobar archipelago, while two Chinese aircrafts have been already dispatched to the Indian Ocean to aid the search for the missing plane.
Officials on Thursday said China's request to allow warships, including two frigates and a salvage vessel, to enter the Indian territorial waters has been "politely turned down" since Indian warships and aircrafts are already searching the Bay of Bengal and Andaman Sea around the 572-island cluster, the New Straits Times reported, citing Indian media.
Adding to the increasing tensions, the Australian Deputy Prime Minister Warren Truss said on Friday that the objects spotted on satellite images which sparked another round of massive international hunt in the remote southern Indian Ocean may have sunk after all.
Ships and aircrafts from various countries have renewed their efforts to find any clues about the missing MH370 in the Andaman Sea. And after Australia's new claim that its satellite may have detected possible debris from the plane, countries including China jumped to Australia's aid in solving what has been referred to as the biggest aviation mystery of the century.
MH370 Fact File
The wide-body jet, carrying 239 people onboard, was reported to have vanished from the civilian air-traffic control radar in the wee hours of Saturday, only about an hour into its journey from Kuala Lumpur to Beijing.
While the inability to solve the puzzle surrounding the bizarre disappearance of the plane has become a breeding ground for uncanny theories and explanations doing their rounds on the internet, the event has prompted a massive international air and water search, which so far has not produced any tangible results.