Professional Dutch Cyclist escapes death twice after swapping his ticket of both doomed MH17 and missing MH370 at the last minute.
The 29-year-old Terengganu team cyclist Maarten de Jonge was scheduled to fly on MH17, which was shot down over Ukraine on Thursday and on MH370, which disappeared over the Pacific Ocean, reports Netherlands public broadcaster RTV Oost .
But he cancelled his tickets at last minute and cheated death as an unfortunate fate.
"I have been lucky twice," De Jonge reportedly told RTV Oost. He added saying he is still planning to fly to Malaysia this weekend and not worried about any mishaps with the flight.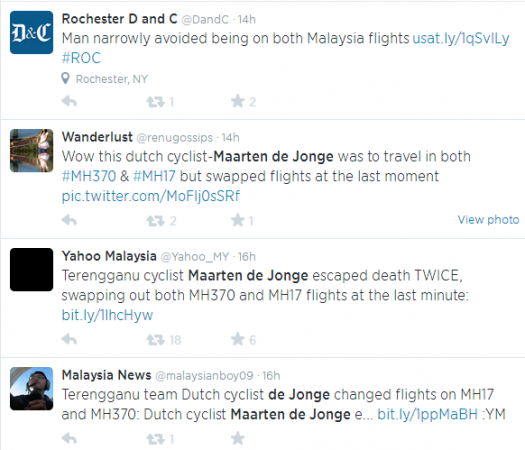 During MH370 mishap, he was going to Taiwan for a race and was scheduled to take the flight from Kuala Lumpur, but swapped to another airplane to avoid having a stop-over, according to Buzzfeed.
Recently, he was scheduled to take MH17 to return to Asia from a race in the Netherlands, but changed his flight for a later one this weekend.
This was incredible that a person became lucky twice, unlike a family who lost family members in both the Malaysian flights.
An Australian family lost four of their close family members to both the flights – Son and his spouse in MH370 and step-granddaughter and her spouse in MH17.
De Jonge, who came in 35th in June's National Championship Road Race in the Netherlands, wrote about his escape, in his website.
"How happy I am for myself and my family that I was on this flight and did not take it the last moment; my story is ultimately nothing compared to the misery in which so many people are paid," de Jonge wrote in Dutch, later translated by abc news.