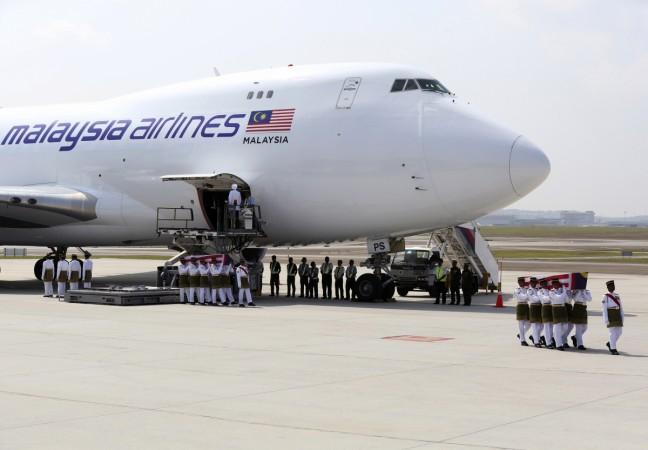 Tears were shed in Malaysia as people across the Southeast Asian country observed a minute's silence and wore black on Friday marking a day of mourning after the first 20 bodies among those killed when the jetliner was shot down last month, finally arrived home.
Malaysian Airlines Flight MH17 crashed after being struck by a missile over the war-torn region near Donetsk in Ukraine on 17 July, adding to the abject grief of a nation that had already been torn apart after the baffling and mysterious disappearance of another aircraft from the same airliner earlier in March.
Flags flew at half mast and newspapers imbued their front pages in black to honour the 20 victims on a day that reflected a sombre mood among citizens pondering over the vice and malevolence of war, bloodshed and carnage that has crippled countries across the world, wounding the very fabric of human solidarity and peace.
Newspaper in black & white today. Simpan utk masa depan. al-Fatihah kpd yg beragama Islam. #MalaysiaBerkabung #MH17 pic.twitter.com/wFmhtZCVQn

— Samsul Bahri (@samsulbahri_sbz) August 22, 2014
Newspaper are all black today !!!. #MH17 #MalaysiaBerkabung #OneMinuteSilent pic.twitter.com/XWSRh2BRJr — Reez (@AhmadMukhrizs) August 22, 2014
Malaysian King Abdul halim Mu'adzam Shah and Prime Minister Najib Razak joined grieving relatives and Malaysian airlines staff as a ceremony at Kuala Lumpur International Airport greeted the special aircraft that brought the bodies of the innocent victims of a war they had no role in. The flight from Amsterdam brought with it sorrow and a deep sense of void that could perhaps never be filled.
"Today we mourn the loss of our people. Today, we begin to bring them home," Razak said in a statement according to Reuters.
The news agency also noted that in the country, which is known for tensions among different groups and members of religion, mourners displayed a never-before-seen unity with Muslim ethnic Malays and ethnic Chinese standing side by side and reciting prayers for the dead.
"We see Malaysians uniting for one cause today. But there is no absolute closure until the perpetrators are brought to justice," Anthony Loke, an opposition parliamentarian was quoted as saying.
While investigators still investigating and studying the chain of events that led to the ultimate mid-air explosion of the aircraft, they have cited various evidences that point fingers on Russian involvement, in one of the biggest aviation tragedy that killed 298 innocent people.
The jet, flying from Amsterdam to Kuala Lumpur, fell between Krasni Luch in Luhansk region and Shakhtarsk in the neighbouring region of Donetsk.