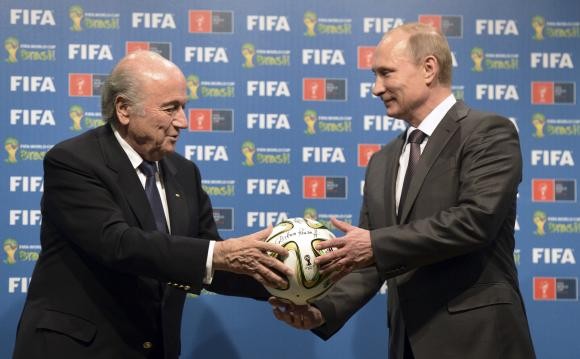 Amidst growing anger over the alleged involvement of Russia-backed separatists in shooting down the Malaysia Airlines plane MH17 on 17 July, killing all 298 onboard, the United Kingdom has also joined in the protest, demanding Russia be stripped of hosting rights of the 2018 FIFA World Cup.
Nick Clegg, whose party Liberal Democrats is a junior partner in Prime Minister David Cameron's coalition government, stated in a interview with the Sunday Times that the EU sanctions on Russia should also include hosting rights of the next football World Cup, Reuters reported.
The Liberal Democrats leader said that threatening Russia by withdrawing the World Cup would be "a very potent political and symbolic sanction".
"If there's one thing that Vladimir Putin cares about, as far as I can see, it's his sense of status," the UK Deputy PM said. "Maybe reminding him that you can't retain the same status in the world if you ignore the rest of the world, maybe that will have some effect on his thinking."
Emphasising his call for the ban on the World Cup in Russia, Clegg said that world leaders would look "weak and so insincere", if the sporting showpiece was allowed to be held in Russia.
In the MH17 crash, 198 Dutch nationals are believed to have died. The Dutch Football Association is also reportedly considering pulling out from the 2018 World Cup, if they are held in Russia. However, the Dutch FA is yet to make a statement on the subject.
The calls for boycotting Russia gained traction earlier last week, after several politicians in Germany, the home of the reigning world champions, called for the same.
"If President Putin doesn't back down and continues to fuel the crisis, the taboo must end on removing the World Cup from Russia in 2018," Stephan Mayer, the domestic policy spokesman of Angela Merkel's CDU parliamentary party group, was quoted by The Telegraph.
While Michael Fuchs, another German leader, had suggested that the sporting event should be held jointly by Germany, France and Italy as Russia handled the MH17 tragedy as "a rogue state" and hence should not be rewarded with an international media event.