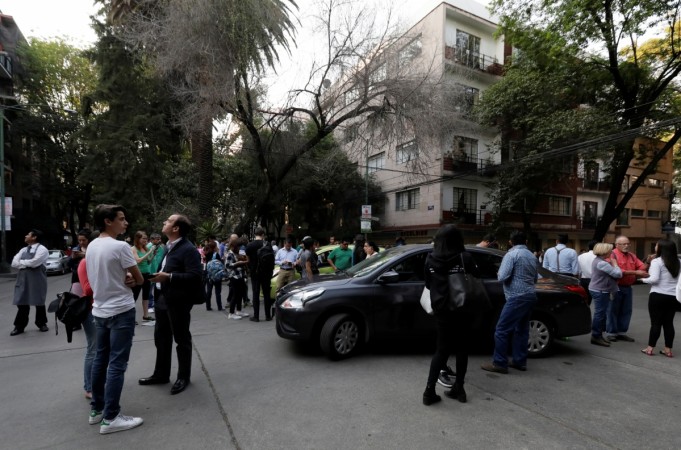 The south and central Mexico was rattled by a powerful 7.2 magnitude earthquake on Friday, February 16, causing many people to leave their homes and offices and come out on the streets. Office towers and other high-rises are said to have swayed due to the tremors, the epicentre of which was traced to a region near Mexico's Pacific coast and its border with Guerrero state.
The US Geological survey had earlier measured the quake at 7.5 magnitude on the Richter scale, but later lowered it to 7.2 and said that the quake was at a depth of about 24 kilometers, reported the Associated Press. While the tremors were strong, no tsunami alert was issued.
Residents said they were terrified when they felt the tremors and saw building swaying for quite some time. "It was awful," AP quoted Mercedes Rojas Huerta as saying. "It started to shake; the cars were going here and there. What do I do?"
The 57-year-old was said to be sitting on a bench outside her home even after the tremors and said that she was too scared to go back in.
Even as residents were finally calming down and getting back to work, the region felt an aftershock measuring 5.8 magnitude. This was said to be around the Oaxaca region, once again causing several buildings in Mexico City to sway.
The social media has since been flooded with residents talking about the quake and saying that it was very scary and the videos look terrifying.
So far, no loss of lives have been reported, but it is being said that several buildings have been damaged with cracked walls.
The February 16 earthquake brought back memories of the September 19, 2017, quake that killed about 228 people in Mexico City and over 140 in the neighbouring regions.
"I'm scared," added Huerta, and spoke of the September disaster. "The house is old."
Another resident Julia Hernandez told the Sun: "Is it ever going to stop? We live in constant fear, with the memory of what happened."
The Mexican government also released a statement on Twitter asking citizens to be careful. "Before returning to your homes, it is important to check if there are any damages, turn off gas lines and disconnect energy sources," it said.