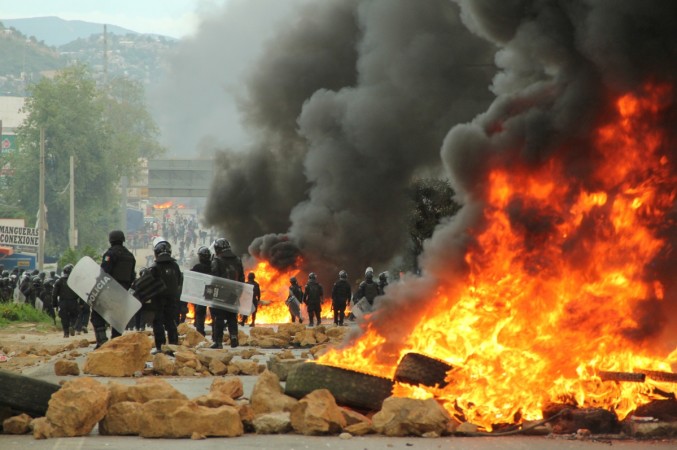 Violent clashes between members of a teachers trade union and the police on Sunday reportedly claimed at least six lives and injured over 100 people in the state of Oaxaca in southern Mexico.
Officials were quoted by Al Jazeera as saying that the injured included 53 civilians, 41 federal police agents and 14 state police agents.
According to the channel, teachers from the National Coordinator of Education Workers (CNTE) blocked roads to protest against the compulsory assessment of the performance of teachers and the arrest of the union leaders on several charges including money-laundering.
A BBC report stated that CNTE is protesting against the new education reforms introduced in the country by Mexican President Enrique Pena Nieto in 2013. Members of the teachers union were quoted by the channel as saying that the allegations of corruption against their leaders are politically motivated. Ruben Nunez, one of the leaders accused of siphoning off money taken from the payslips of education workers illegally, has been charged with money laundering by the prosecutors.
Protesters burned vehicles, threw stones and Molotov cocktails in the clashes that took place on Sunday. Protests were carried out in several municipalities of Oaxaca but the clashes in Nochixtlan were the most violent. Protesters also burned a few installations of the federal police in San Pablo Huitzo and Santiaguito.
According to Al Jazeera, the federal government of Mexico on early Sunday issued a statement which stated that its agents were not carrying guns. "The attacks with guns came from people outside the blockades who fired on the population and federal police," the statement said.
However, Enrique Galindo, chief of Federal Police, said on Sunday night that he had deployed some officers with guns after agents were being fired at. The BBC quoted authorities as saying that unidentified gunmen started to fire from both sides while the police were trying to clear the streets.
Since last week, members of the teachers union have blocked roads, a highway and also train tracks in the state of Michoacan. Bus lines have been forced to cancel trips to Oaxaca, which also happens to be a popular tourist destination. They have also blocked a shopping mall. Teachers have also set up an encampment at the Oaxaca main square, Al Jazeera reported.