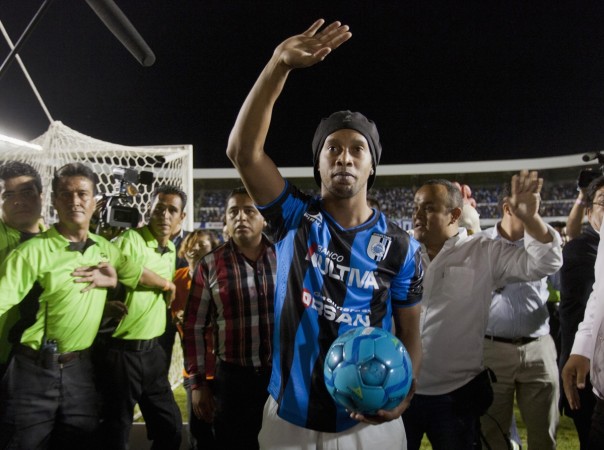 New Queretaro FC signing Ronaldinho's debut for the Mexican club has been marred by a racial abuse, hurled by a Mexican politician, towards the Brazilian, calling him an "ape", because the latter was stuck in a traffic jam, caused by the former's presentation ceremony.
The former PSG, Barcelona and AC Milan star, played his first game for Queretaro FC in a Liga MX clash against Puebla FC on Friday. The traffic jam was caused during the half time of the game, when Ronaldinho was presented to the fans of his new club.
Mexican politician Carlos Trevino, who apparently "detests" football, was allegedly irked by the enormous traffic jams caused by the fans wanting a glimpse of the Brazilian star, during his first game for the club.
"I try to be tolerant but I detest football and the dumping down phenomenon it produces," Trevino's Facebook post said (in Spanish).
"I detest it all the more because people obstruct and flood the main avenues, causing me to spend two hours getting home," he continued. "All to see an ape...a Brazilian, but an ape nonetheless. This has become a ridiculous circus."
The post was deleted from Trevino's Facebook account quite soon, but was picked up by many local journalists and it sparked a huge uproar on the social media, in Mexico. A new feed called #TodosSomosSimios (we are all apes) was created and gained a lot of popularity over the weekend. It still remains one of the highest trending hashtags in the country.
Queretaro FC, on the other hand, issued a terse statement, on Sunday, asking for an "exemplary punishment" to be handed out to Trevino, for his comments. Mexico's National Commission against Discrimination soon announced, on Monday, that it would start an investigation into the matter, and try to find out whether the abuses hurled by Trevino were really meant to discriminate on the basis of race.
Meanwhile, Trevino seems to be in a lot of trouble, with his own party, National Action Party, announcing that they would launch their own investigation into the matter. Jose Baez, regional chief of the party, said Trevino would be expelled, if found guilty of racial discrimination.