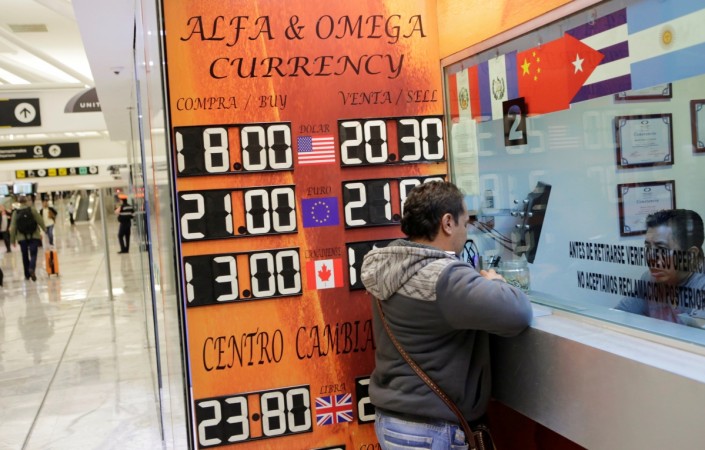 As results indicated towards a high possibility of Republican candidate Donald Trump winning the 2016 US presidential elections, the Mexican currency peso took a beating, plunging to its lifetime low.
Reuters reported that the peso depreciated by more than 13 percent in Tuesday after-market trading for Mexico and in Wednesday trading in Asia, surpassing the earlier 20 pesos-per dollar fall in about 19 years in intraday trade.
"There's a lot of panic in the market, it is definitely an outcome it was not expecting. The movements are very strong, the market is showing higher risk aversion in search of safe-haven assets," Juan Carlos Alderete, a strategist at Banorte-IXE, told the agency.
A victory for Trump would send the peso crashing forcing the country's central bank to raise interest rates as part of its intervention to manage the currency's freefall.
Trump's aggressive stance on the North American Free Trade Agreement (NAFTA) during his campaign speeches has been viewed with concern.
"Tell NAFTA partners that we intend to immediately renegotiate the terms of that agreement to get a better deal for our workers. If they don't agree to a renegotiation, we will submit notice that the US intends to withdraw from the deal," reads Trump's vision on trade-related matters.
"Eliminate Mexico's one-side backdoor tariff through the VAT and end sweatshops in Mexico that undercut US workers," it adds.
Trump's views on China are equally hawkish, given that the Asian country is a significant trade partner for the US.
"Instruct the U.S. Trade Representative to bring trade cases against China, both in this country and at the WTO. China's unfair subsidy behaviour is prohibited by the terms of its entrance to the WTO," reads Trump's vision on trade.
"Use every lawful presidential power to remedy trade disputes if China does not stop its illegal activities, including its theft of American trade secrets - including the application of tariffs consistent with Section 201 and 301 of the Trade Act of 1974 and Section 232 of the Trade Expansion Act of 1962," it adds.